November 13, 2020
Gratitude in Renourishing
In the three years I have worked for Mirasol, I have never seen any two eating disorders alike. No matter the label, every client has a unique situation which often unveils something much larger.
Nestled here in Tucson, Mirasol provides a safe, compassionate, and supportive "home away from home" where clients are encouraged to connect with their inner voice and explore their relationships with themselves and food.
As one the dietitians, I pride myself in not just hearing, but truly listening to the struggles around nourishing for each client, so that trust can re-build. Doing this takes a team. It takes brave individuals who are willing to step outside the box to find the best treatment path for each client. I enjoy learning about each client and working together to come up with gentle, innovative nutrition challenges that help shift disordered thinking patterns. I have found that giving clients space to direct their own recovery paths is most effective in achieving lasting behavioral change. And I am so grateful and proud to witness the perseverance that results in the blooming of new life.
Our hope here at Mirasol is that each client recovers the ability to experience gratitude around nourishing and sharing fun times with friends, and to feel strong, comfortable, safe, and reconnected to their body.
The journey to food freedom is not easy, but surrounding yourself with loving staff, nature, music, movement, and nourishment prepared with love, makes this experience meaningful and worth it. I am so blessed to be one of the lucky ones who gets to witness the blooming of all our beautiful butterflies.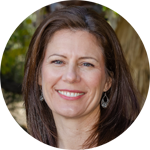 Ilene Yalen, Registered Dietitian
Mirasol Recovery Centers