December 4, 2018 by Marion MacDonald
An Interview with Mirasol Clinical Director Tanya Lauer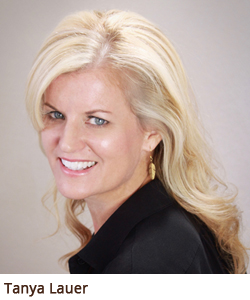 Tanya Lauer recently joined Mirasol's professional staff as Clinical Director of our adult residential eating disorder treatment program. She comes with an extensive background in the treatment of eating disorders and co-occurring conditions, and her focus is trauma, resilience and the importance of the mind-body connection in the healing process.
MM: "Over the past few years, we've noticed a big increase in the number of clients we admit with serious trauma in addition to an eating disorder. Trauma-informed treatment has become the norm everywhere now. Do you think trauma is becoming more common, or are we becoming more sensitized to it?"
TL: "There's so much we don't know in terms of the neurobiology of trauma and ACES — Adverse Childhood Experiences — and how that affects cardiovascular health and many other health conditions. New research has led to greater awareness of the health effects of trauma and also reduced stigmatization. In my opinion, there really doesn't need to be a "D" in "PTSD" (post-traumatic stress disorder). It's not a disorder, it's a natural response."
MM: "What led you to develop a specialization in trauma resolution?"
TL: "It's interesting, because I did part of my practicum for my Master's Degree at Mirasol, and I've always been very interested in our relationship with food, and the depth and meaning of that, since eating is the first skill we learn. I went on to pursue additional training at the Southern Arizona Center Against Sexual Assault because I wanted to do more trauma work. I'm also interested in substance use, addiction and mood disorders. What is the root cause? What's driving it? To me, it's the "wounding". The word "trauma" comes from the Greek word for "wound, hurt or defeat." How we suffer — and how we survive suffering — is fascinating to me. You might think it would be depressing to work in behavioral health — especially trauma — but I actually find it to be transformative and really inspiring. Trauma work is resilience work. It's finding the light. As Rumi said, 'Don't turn away. Keep your gaze on the bandaged place. That's where the light enters you.' That's why I love it!"
MM: "What do you think is missing in the way trauma is typically addressed in Western medical practice?"
TL: "The biggest obstacle is pathology-based thinking, and the tendency to see trauma as a disorder or dysfunction that should be treated with medication. I think part of the problem with trauma is just looking at the symptoms. When I work with clients, I'm most curious about how they survived their trauma."
MM: "So you're actually focusing not so much on trauma, but on the opposite of trauma?"
TL: "Exactly. When I work with groups, I ask 'what is the opposite of trauma', and often it's 'joy' or 'freedom'. I think when it comes to recovery from any disorder, there has to be joy and meaning for it to be sustainable."
"Trauma work is resilience work. It's finding the light. As Rumi said, 'Don't turn away. Keep your gaze on the bandaged place. That's where the light enters you.' That's why I love it!"
MM: "So how can we help our clients focus more on achieving resilience than on recovering from trauma?"
TL: "That's a really tough question. People who are struggling with eating disorders and substance use disorder often have felt damaged or disordered for so long that it's part of their identity. So part of healing and recovering from that is learning a new identity — a new story. Sometimes it also means changing habits and ways of living. One of the things that drew me to Mirasol is the emphasis on the mind-body connection, and finding ways to be in touch with the natural world. An eating disorder is the hardest thing to recover from. There's no measuring stick for pain or for what it takes to be in recovery, but our relationship with food is something we can't move away from. So it's important to recognize and honor even small, incremental steps toward resilience to help clients to believe in themselves, and move toward it."
MM: "Why do you think we see so much co-occurrence of eating disorders with trauma, and how do we separate the eating disorder from the trauma?"
TL: "The first trauma is usually loss of attachment. So often the way people try to reestablish attachment is through an eating disorder, by having control over the attachment to food. Usually the trauma is the catalyst, and substance abuse or eating disorder is an attempt to regain control. The angle I take instead of feeling shameful about the behavior, is to point out that it was actually how the person survived, and established some sense of autonomy and control. But it doesn't have to be the way they survive now."
MM: "Given your experience in the treatment of eating disorders and trauma, what was it that enticed you to come to work at Mirasol?"
TL: "It just feels like a precious, small place, and something very unique. And I was also curious. How has Mirasol survived? There are very few treatment centers now that aren't owned by large corporations. There's something really wonderful about a small treatment center that is creative, flexible and truly holistic. So having a chance to be part of that, and also infuse some of my own experience is pretty exciting to me. I'm constantly curious about resilience in human beings — how are they coping, how are they making it through — and so I'm also curious about the resilience of this organization, and what is the resilience of this organization that has enabled it to survive as a small, independently-owned treatment center for nearly 20 years? And how can I help support that?"
Subscribe to Our Newsletter