Mirasol Eating Disorder Treatment Center
Licensing and Accreditation
Mirasol has been fully licensed by the Arizona Department of Health Services Office of Behavioral Health Licensure since 1999. In July, 2006, we also obtained certification by the Commission on Accreditation of Rehabilitation Facilities (CARF).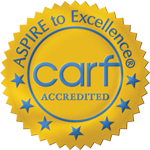 CARF accreditation is your guarantee that Mirasol's services meet internationally recognized standards. Any organization seeking accreditation for a behavioral health program must demonstrate the following through policy and practice:
Partnership with the persons served in the development of treatment services and individualized program goals.
Service design and delivery that focus on the needs of the persons served.
A service delivery process that uses a multi-disciplinary approach.
Program accessibility and assignment of qualified staff members to provide behavioral health services.
A system of accountability that evaluates the outcomes achieved by the persons served as a measure of the success of the behavioral health programs.
An organization seeking accreditation from CARF must demonstrate a clear focus on its customers and a commitment to enhancing the lives of the persons served.
Mirasol is proud of its CARF certification and looks forward to implementing CARF's recommendations for continuous improvement in the quality of its services.