April, 2006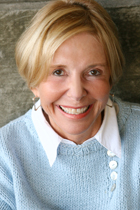 Letter From the Founder
Dear Friends,

You all know how much I love writing this newsletter. We have over 19,000 subscribers now and our community is growing (yay! yay!). This month I've asked some of Mirasol's very talented practitioners to begin contributing to our newsletter. Sometimes I'm amazed myself at the incredible interventions and modalities we are able to offer our patients. Please let me know how you like this as you begin to explore the multitude of choices we have in starting someone on their road to recovery!
Many people write me asking for advice and information about a great variety of topics. The most frequently asked question is, "My friend has an eating disorder. How can I help her? I'm scared!"
The person with the eating disorder is so very fortunate to have a friend who cares enough about her to ask how he or she can help. There are some effective and profound ways that family and friends can help the person with an eating disorder. Here is some information that we have made available on the Mirasol website. "Dos and Don'ts for Families and Friends" is wonderful, as is "Positive Strategies for Parents". I have also included a link to information from the National Eating Disorders Association website.
Dos and Don'ts for Family Members
· Remove yourself from the problem and allow the sufferer to make choices about her behavior unencumbered by power struggles and control battles. Accept your limitations!
· Accept the other person's right to an independent life. Don't take charge.
· Don't purchase (or avoid purchasing) food solely to accommodate the eating- disordered person.
· Each household member decides individually what he or she will or will not eat. No one should be forced to eat anything or be restricted in what can be eaten.
· Don't make mealtimes a battleground.
· Be willing to negotiate household chores involving food.
· The eating-disordered person is responsible for her behavior whenever it affects others.
· Do not monitor someone else's behavior for them (even if you are invited to). Do not be the "food police."
· Do not use money to control another person's eating behavior.
· Do not anticipate someone else's needs. Ask!
· Don't make eating out a battle of wills.
· Do not play therapist.
· Do not offer advice or opinions.
· Do not comment about someone's weight and looks.
Positive Strategies for Parents
· Do not treat this problem as just an academic issue, but rather recognize the emotional roots of anorexia and bulimia.
· Be open to feedback from teachers, counselors and others who can help.
· Educate yourself on the causes, impacts, and treatments of eating disorders through literature, books, seminars, and the Internet.
· Talk to your daughter about what is underneath the disordered eating behavior; don't just focus on the eating patterns.
· Recognize the need for proper assessment, dietary counseling, medical consultation and therapy treatments and options.
· Get involved in a parent support group.
· Talk about the issues and possible solutions to eating disorders with the whole family.
· Don't be fooled by your daughter's attempts to minimize and ignore the real problem. Be firm about the need for recovery while being careful to avoid forcing the issues.
· Be a good role model around food, take care of yourself, don't blame yourself, and be patient.
· Recognize that recovery takes time and do not place unrealistic demands for a quick fix of your daughter's eating disorder.
Warmly,
Jeanne Rust, PhD, LPC
Founder and CEO Mirasol
Brain Gym: A Workout for Your Mind
For Mirasol therapist Becca Howard, the creative process plays an important role in healing the body, mind and spirit. A Certified Clinical Hypnotherapist with a background in the creative arts, Becca became fascinated by the inner workings of the human mind and pursued additional training in energy psychology techniques, including Brain Gym.
Simply put, Brain Gym is a series of exercises designed to stimulate brain function, reduce stress and improve concentration. The exercises combine elements of several other disciplines including acupressure, kinesiology, Touch for Health, and yoga.
"We ask our clients to set a goal for recovery," Becca explains. "Brain Gym helps balance the mind-body system so it is better able to achieve that goal."
Newcomers to Mirasol may be surprised to find themselves in a room full of women massaging their breastbones, tapping their knees -- or even hooting like owls.
"At first they think I'm crazy, so we laugh a lot," Becca muses. "But the exercises are fun, and they work!" She notes that clients frequently use Brain Gym exercises at mealtime to calm their anxiety and the reinforce the goal of respecting their meal plans.
Here's a sampling of Brain Gym movements known as "PACE" (positive, active, clear, energetic).
Water - About 70 percent of your body weight is made up of water, which is essential for optimal brain functioning. Sipping water will help you feel more energetic and ready to learn.
"Brain Buttons" - Spread your thumb and index finger as widely as possible. Lightly press your index and thumb into the slight indentations below the collar bone on each side of the sternum. Put the other hand over your navel. Gently press on these points for about two minutes.
"Cross Crawl" - Stand or sit. Touch the right hand across the body to the left knee as you raise it, and then touch your left hand to your right knee, as if you were marching.
"Hookups" - Stand or sit. Cross the right leg over the left at the ankles. Cross your right wrist over your left wrist and link up the fingers so that the right wrist is on top. Bend the elbows out and gently turn the fingers in towards the body until they rest on the sternum (breast bone). Keep the ankles and wrists crossed and breathe evenly in this position for a few minutes.
Art from the Heart
Expressive Painting at Mirasol is a Gestalt technique that has been modified for a workshop format. While music plays in the background, clients express their "now" on large canvasses, using chalk, long-handled brushes and tempera paint.
Processing the experience begins with a visual dialogue technique, and each artist shares the messages she receives with her peers and the therapist.
The painting at right is entitled, "Confusion of Hell". In the client's words, the most urgent message was that she needs to be more conscious of how she treats herself, and that shifting her thinking to the positive will take her farther down the path toward recovery. This path will lead her into the light, and the blocks she encounters will be fear of the unknown and fear of being herself. The client also shared that during this exercise, the inner critic ceased its incessant chatter -- and that alone was a tremendous relief!
--Photo and description by Mirasol Art Therapist Helen Svob