April, 2007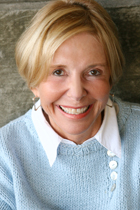 Letter From the Founder
Dear Friends,

When I think about my life today, in recovery, I realize that my most important relationships are the ones I have with my family! I will be the first one to tell you that my family is not perfect. We still have issues, even after many years of hard work. But our family has progressed from being extremely dysfunctional to being basically pretty happy. We're not the Waltons, but we're not the Osbournes, either! We're there for each other, and our family relationships are built on a foundation of love and respect.
Mirasol's Family Week is the backbone of our treatment program. Eating disorders are family conditions — everyone in the family is affected by the behavior of someone with an active eating disorder. This is true even if the person no longer lives with the family!
Most families have emotional patterns that are handed down from one generation to another. Reactions to this family emotional process may include:
emotional distance which may result in neglect
physical or emotional dysfunction in one spouse
overt conflict among family members
projection of problems onto one or more children
Warmly,
Jeanne Rust, PhD
Rewiring the Connections: Family Week at Mirasol
"Family "Week" is an intensive four-day program when the client and key family members come to Mirasol with the ambitious goal of transforming the way they communicate.
The client and her primary therapist decide who needs to attend. It's usually the parents, but siblings or even grandparents may also be included. The program usually occurs near the end of the treatment and involves a maximum of four clients.
The women begin preparing for Family Week from the day they arrive at Mirasol. Through individual and group therapy, they learn to use affirmations and "when you ... I feel" statements to build self-esteem and assertiveness.
During Family Week, parents experience residential treatment along with their daughters, sharing meals and participating in workshops on mindful eating, nutrition, neurofeedback, family dynamics, recreational therapy and dance-movement therapy. But the core of the program is creating opportunities to practice new ways of communicating.