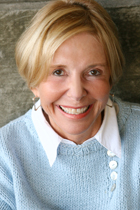 Letter From the Founder
Dear Friends,

Spring has definitely sprung here in southern Arizona! Everywhere I turn there are fields of wildflowers, birds nesting, parks full of people and dogs, everyone hiking — and the warm sun illuminating crystal clear days. I love it!!
I'm excited to write about the topic we've chosen this month — the role of animals in Mirasol's treatment program. Health professionals are increasingly recognizing what animal caregivers and everyday pet owners have known for years — that pets can be good for our health and well-being. Companion animals are being introduced into the therapeutic regimens of nursing homes, hospitals, rehabilitation centers and psychiatric institutions. Therapeutic riding programs improve the motor skills and coordination of the physically challenged. Pets help inmates in correctional facilities and juvenile offenders to learn empathy and compassion. Autistic children swim with dolphins. In short, wherever people have special needs, creative therapists can bring together pets and people for mutual benefit.
I hope you will enjoy this introduction to Mirasol's four-footed professionals and our experience with animal therapy in the treatment of eating disorders.
Warmly,
Jeannie Rust, PhD
CEO/Founder
The Mirasol Menagerie: A Love Story
The health benefits of animal-assisted therapy are well documented. In one study conducted by Drs. Alan Beck and Aaron Katcher at the University of Pennsylvania School of Veterinary Medicine, subjects' blood pressure was measured during a conversation with a researcher. Then a dog was introduced into the room. There was a measurable drop in blood pressure when the subjects petted or spoke to the animal.
In another Katcher study of 92 heart attack survivors, pets were found to improve the men's chances of survival. During the first year after a heart attack, the mortality rate was six percent for pet owners compared to 28% for men who did not have pets.
In a similar study, Erika Friedmann of Brooklyn College found higher survival rates for pet owners a year after their heart attacks.
Research has repeatedly shown that pet ownership can reduce stress-induced symptoms. Just watching tropical fish in an aquarium can reduce blood pressure, muscle tension and other symptoms of stress for patients preparing for oral surgery. People who watched the fish were as calm as another group that had been hypnotized prior to surgery.
Mirasol's experience with animal therapy began with Oliver, a lovely black lab who belonged to the head of our neurofeedback department. Oliver came to work every day and helped many frightened, anxious women feel at home.
When Oliver retired, we adopted Cricket. She was a black and white border collie and smart as a whip. But like some of Mirasol's clients, Cricket was a runner. So we sent her to doggy school for a month, and built her a huge enclosure. When she came home, the first thing she did was to jump the eight-foot fence! But the women loved her. Whenever anyone was feeling sad or homesick, she would sit next to them on the sofa with her head on their laps. Over time, Cricket became extremely protective of our clients, even preventing the night staff from entering their rooms to do bed checks! We found Cricket a wonderful home with a woman who fell in love with her at first sight.
Our next foray into animal therapy was the addition of Bucky and Sydney to our staff. They came from a ranch in Globe, Arizona that specialized in miniature animals. Bucky was a miniature donkey, and his boyhood chum was Sydney, a normal-sized goat. The women took walks with them every day, and in the process, learned what it's like to work with different behaviors such as stubbornness, anger and loyalty.
We also drafted Bucky and Sydney for a study involving neurofeedback. We did brain maps of a group of women, sent them outside to play with the animals for 30 minutes, and then repeated the brain maps. The second brain map showed a reduction in anxiety and depression after just 30 minutes with the animals.
As much as we loved Bucky and Sydney, it was hard to find permanent donkey and goat wranglers. Unlike dogs, who love anyone and everyone, Bucky and Sydney were deeply attached to their human friends and suffered terribly when they left. We found a permanent home for them on a large ranch with several other animals, where they are happy as can be!
It was a few months ago that I received a call from Mirasol's Adolescent Residence to let me know that our adolescent clients had become chicken farmers! The chickens are part of a program designed to provide more food from Mirasol's own gardens.
"It gives our clients the opportunity to take responsibility for the food they eat," says Kerwin. "They know exactly where these eggs came from, and how the chickens who produced them were fed and treated."
Mirasol's chickens of choice are Buffingtons and Reds — both good layers who eat organic wastes from Mirasol's kitchens, and who reward us with eggs ... and other miracles. One of our adolescent clients is a vegetarian, but she'll eat eggs from the Mirasol chickens. She says she knows where they've coming from, plus "they're really good!"
The role of animals at Mirasol is a love story with many chapters, including dogs, donkeys, goats and chickens as well as the pocket gophers, quail, javelina and other native Sonoran Desert creatures. All have enriched our lives in so many ways, calming us when we are stressed, comforting us when we are lonely and reminding us to slow down and savor the moment. We are truly blessed to share our desert homes with them.