April 25, 2009 — In This Issue:

New Transitional Living Program | Visiting Therapist Program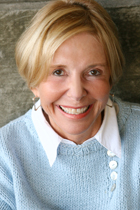 Dear Friends and Colleagues,

Spring has arrived in Arizona, bringing not only warmer temperatures, but wildflowers and cactus blossoms. Truly glorious!
Here at Mirasol, we're celebrating this season of renewal by giving birth to a new program! When I started the Mirasol's adult program ten years ago (on July 1, 1999), people thought that I was crazy for using an unconventional integrative treatment model. Now most eating disorder treatment program use some type of alternative treatment — although none with the same level of commitment as Mirasol!
I have made it my life's mission to help women achieve full recovery from eating disorders. The area of greatest concern for me remains the high rate of relapse, even for clients who do very well in treatment. Early on, I added a full year of aftercare (at no extra cost) to Mirasol's residential program, which significantly improved relapse rates. But some clients continue to struggle, completing one unsuccessful program after another, and feeling like total failures.
Terry Gorski and G. Alan Marlatt did brilliant work on relapse prevention for substance abuse, but there's no comparable research on eating disorders. I have spent over a year researching relapse prevention and emergency intervention for eating disorders — and have come to some astounding, yet simple conclusions!
We are introducing a cutting-edge transitional program. This program will improve relapse rates significantly. The minimum length of stay is 30 days. This program is open to people who are coming from primary treatment anywhere as well as people who have had primary treatment within the past two years. Most people can do without another primary treatment stay. However, they can stabilize in a short period of time and truly benefit from a unique and effective transitional program with a focus on emergency interventions.
Of course, there are many other unique interventions that are a result of my research in the program, and I'll write more about them in future issues of The Sunflower.
Warmly,
Jeanne Rust, PhD
New Mirasol Transitional Living Program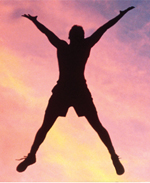 The first year after primary eating disorder treatment is critical. Our research has shown that the likelihood of complete recovery is much higher for women who have ongoing structure and support after primary residential treatment.
To help more women achieve full recovery, Mirasol has developed a new transitional living program for women who have completed primary care within the last two years.
The transitional living program is a place where women in early recovery can rebuild their lives as active, independent adults with the support of a specialized treatment team and a therapeutic community of women working toward shared goals.
Alternative Therapy and Real World Skills
Mirasol's Transitional Living Center is founded upon the same principles of integrative medicine as our primary treatment center, with additional emphasis on group therapy and "real world" practical skills the client will be able to take with her in recovery. Daily schedules are carefully tailored to the individual's needs, and modified to incorporate part-time work, school or volunteer opportunities as she progresses on her path to full recovery.
The program is open to women ages 18 and over who have completed primary care at Mirasol or another accredited residential treatment facility within the last two years. For more information, please visit our web site or call our Admissions Department at 888-520.1700.
Great Turnout for the Visiting Therapist Program!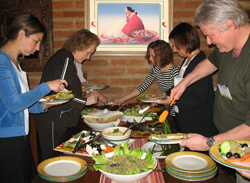 Ten eating disorder therapists and dietitians came to Tucson in April for the second in a series of free seminars on the alternative approach to the treatment of eating disorder. Attendees included local professionals as well as guest from as far away as Seattle and a sizable contingent from southern California
Our home for the Visiting Therapist Program was La Joya de Mirasol, a 120-year-old former guest ranch and the future home of new Mirasol facilities. We shared the 12-acre ranch with several other guests including flocks of Gambel's quail, ground squirrels, sharp-shinned hawks, a pack of coyotes, a bobcat(!) and a great horned owl whose nightly appearance held us spellbound.
Program highlights included a case presentation by Mirasol clinicians, training sessions on audio visual entrainment, polarity therapy and desert flower essences, along with spectacular meals prepared by Mirasol's multi-talented chefs.