April, 2013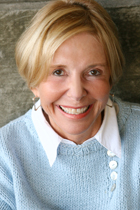 Letter From the Founder
Dear Friends,

April — the glories of spring in the desert can never underestimated. Spring is truly a perfect time. The temperature is ideal during the day, 75 degrees, and cool at night in the 50s. The air is like silk on the skin. I've seen my neighbors this past month coming outside to do yard clean-up. How do I keep missing these lovely people I see now during the rest of the year?
The trees are in bud. It's truly spring here just like any other place. I think it's even more special in the desert because we have so much wildlife, out and active just like people. I've seen quail families and babies, marching on parade with the father in the front, then the children, then the mother bringing up the rear. There will be the odd larger quail or two with the group who are undoubtedly teenagers who haven't yet found "the right one."
We'll start to see baby javelina, deer, and many different kinds of birds. Birders say that the Sonoran Desert is one of the prime areas in the country for watching birds. I can't say enough for the desert in spring.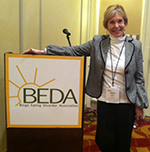 My highlight this month was attending the BEDA conference in Bethesda, MD. I had not traveled to a conference for some time, and not only was I able to present with my colleague, Meryl Beck (energy therapist), but I met some wonderful people from all over. The presentations were full of interesting content and the Health At Every Size philosophy was adopted by the majority of the attendees at the conference. I personally agree with this philosophy. The goal of treatment for a binge eater, in my mind, is not necessarily weight loss (although that happens as a bi-product of treatment,) but the normalizing of blood sugars, blood pressure, cholesterol, etc. Let's get healthy and then a person can decide what size they choose to be.
Did you know that every time you say you're going on a diet, you are in essence saying that something is wrong with you! Let's see about getting the word Diet out of our vocabularies. Let's talk about eating less or about eating on a meal plan. The word Diet screams out to me dysfunction, depression, weight gain, failure, misery, all of these conditions we can happily eliminate from our lives!
I would love to talk with any of you and would love to hear how you're doing on eating less or how you're doing on your meal plan. Let's not talk about weight and numbers unless it's absolutely necessary.
Warmly,
Jeanne Rust, PhD, LPC
Founder and CEO Mirasol