August, 2008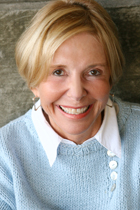 Letter From the Founder
Dear Friends,

There's a lot of electricity in the air! The monsoon arrived early this year, bringing life-sustaining rainfall to the desert, along with the daily fireworks from violent electrical storms!
We're anxiously awaiting another kind of renewal — clearance from the Arizona Board of Behavioral Health to operate our adolescent unit as a Level I Sub-Acute Agency! Mirasol's adolescent residence opened its doors in 2005 to provide intensive treatment for girls ages 12 to 17 who suffer from anorexia, bulimia and compulsive eating. The additional licensing would make Mirasol the only sub-acute adolescent residential eating disorder treatment center in Arizona.
Stay tuned for news about other new developments at Mirasol, including plans for our 10th Anniversary. Yes, in 2009 it will be a full decade since we launched our adult eating disorder program, and we have a lot to celebrate!
Warmly,
Jeanne Rust, PhD
See You at NEDA!
If you're planning on attending the 2008 National Eating Disorders Association Conference September 18-20, in Austin, Texas, be sure to stop by the Mirasol booth. And don't miss "No More Denial about Exercise", Saturday from 1:30 to 2:45. Mirasol therapist Diane Ryan, who has been doing great work on the value of adventure therapy, will participate in this panel discussion on eating disorders and healthy exercise.
Visiting Therapist Program
Watch your inbox for an invitation to attend Mirasol's Visiting Therapist Program October 17-19, 2008. The seminar includes a networking dinner, a case presentation by Mirasol clinicians, "mini treatments" in EEG and acupuncture, a gourmet lunch prepared by Mirasol chefs, and tours of Mirasol's adult and teen eating disorder treatment facilities.
If you are an eating disorder therapist or dietitian and would like to attend our next free seminar, please call Mirasol at 520-546-3200.
New at Mirasol: Virtual Family Sessions!
Despite its small size — just 10 beds for clients ages 12 to 17 — Mirasol's adolescent program has already welcomed clients from 25 states and four different countries. Our young clients often find themselves very far from home and family during treatment. To comfort both our clients and their parents, Mirasol is experimenting with optional "virtual family sessions", using new videoconferencing technology to unite parents and their daughters via the internet.