December, 2012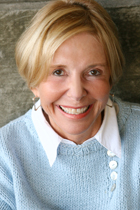 Letter From the Founder
Dear Friends,

Hello everyone, and Happy Holidays!
I can hardly believe that this year is already coming to an end! For many of us who are recovered, the holidays can be a time of joy and celebration. It's a time when we can be with family and dear friends. We share laughter, memories, sometimes tears — and finally, the pleasure of eating with our loved ones.
For people who are still struggling with eating disorders and depression, the holidays bring up different kinds of stressors. Dysfunctional family interactions are a big source of stress. For some of us, holidays may bring up unpleasant memories of previous occasions. For others, holidays never quite live up to our expectations of what the holiday "should" be like.
Most holiday events feature huge quantities of food. There may be a great deal of pressure from well-meaning friends and family to eat and drink more than is comfortable for us. If we use eating disorder behaviors as a way of coping with stress in our lives, it's almost guaranteed that the holidays will be a time when we're most active in our behaviors, experiencing consequent increases in depression, guilt, shame, fear, anxiety, and low self-esteem.
Therapists can help their clients through these difficulties by inviting them to role-play potentially stressful scenarios, and developing structured plans for navigating the holidays, as well as practicing assertiveness techniques to deal with family and social pressures. Your therapist may advise you to limit your exposure to particularly "toxic" people and destructive interactions. This year you may choose not to attend the family celebration and choose to be with your family of choice. You may choose to leave when Uncle Harry comes into the room, knowing he was the one who touched you inappropriately when you were little.
But what if your therapist isn't available during the holidays? If you're struggling and have no one to call, you can Ask the Doctor for support. Mirasol's web site also offers links page to other eating disorder resources. And finally, experiment with Holiday Survival Guide
Be kind to yourself and those you love, and give yourself the gift of a warm and joyful holiday season!
Warmly,
Jeanne Rust, PhD, LPC
Founder and CEO Mirasol