December, 2014
Letter From the Founder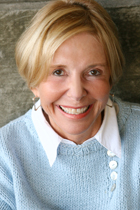 Dear Friends,
It's getting cooler here in Arizona, and the weather is simply glorious. And with our cooler weather, the holiday season is upon us.
At Mirasol we've been ever so busy – conferences in New Hampshire at Plymouth University, in Tennessee, and several in Tucson. Conferences give us the opportunity to see what other treatment centers are offering. One of Mirasol's goals is to remain on the cutting edge – and by the cutting edge, I mean offering the very best and most effective treatment available.
When I think of the holiday season, I always think of twinkling lights, fireplaces, smells of cinnamon, and of course my next thought is about Food! For years I lived with the thoughts of how much I was going to eat, what I was going to eat, and what I was going to do with it after I eat it. My holiday distress was always enhanced by family members and unhealthy relationships. They were all there in abundance at holiday time. Everyone of them seemed to pop up! Yes, I mean every single one of them! I know that everyone with an eating disorder feels much the same way. So what can we do?
My friend Meryl Beck, author of Stop Eating Your Heart Out, has 8 Tips and Treats to use at the start of the season. I love them!
1. Are you drinking enough water? Many of us feel hungry when in fact we just need to be hydrated.
2. Take care of yourself by making sure your pantry and fridge are stocked with healthy foods that you enjoy.
3. Make a plan for every meal and snack you have, including Halloween candy.
4. Learn to monitor your energy level and have an apple or a handful of blueberries and avoid the coffee, candy, or a Red Bull whenever your energy level drops.
5. Write a gratitude list every single night or whenever you are feeling down.
6. Sitting too much? Take a break. Run in place. Stretch.
7. Life is a like a boomerang: whatever you send out you'll receive back. Send love, peace, and joy and feel it return to you, multiplied.
8. Sometimes the only thing we can change is our attitude, and that changes everything.
A couple of tips are about food, but the rest are about attitude and gratitude. This is hard. This is not work for babies but for people who want to live the very best life they can. I'll keep passing on strategies to survive the holidays in November and December. Remember that you absolutely can survive the holidays and come through victorious! :o)
Gratefully,
Jeanne Rust, PhD, LPC
Founder and CEO Mirasol
Eating Disorders Institute Graduate Certificate Program
IAEDP Approved, Eating Disorders Institute Graduate Program or Advanced Professional Training. Plymouth State University offers a dynamic, innovative and cutting-edge program for mental health and health care professionals, dietitians/nutritionists, and school/outreach professionals. The program expanded to a new site with our host partner, Mirasol Recovery Centers in Tucson, Arizona. This program is for professionals seeking additional specialization in eating disorders with a variety of options including: 15-credit graduate certification, advanced degrees, or personal/professional development in a workshop setting. PSU's eating disorders courses/workshops provide professionals with research-based tools, techniques and strategies to use in medical treatment, mental health counseling, nutrition counseling and education and outreach.
The residential portion of the program is in Arizona coming up in January. This is a series of four 3-credit graduate courses or advanced training opportunities in an intensive 2 ½ -day residential format. It is also for those interested in becoming a Certified Eating Disorders Specialist for International Association of Eating Disorders Professionals, (IAEDP) in behavioral health, nutrition, or nursing. Plymouth State University's program is the oldest and the only IAEDP approved graduate program in the country. Act now to sign up. Rolling
Contact Mardie at:margaret@plymouth.edu, call (603) 535-2515 or visit: Plymouth University
These are great courses – and Mardie's professors are delightful and so knowledgeable! I know you'll enjoy them.
1-888-520-1700 © 2014 Mirasol, Inc. All Rights Reserved.