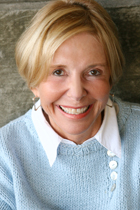 Letter From the Founder
Dear Friends,

"Tucson is known as a healing place," said Dr. James Gordon, founder and director of the Center for Mind-Body Medicine in Washington, D.C. "It's a place of great natural beauty and it feels healing to be there. You can feel the connection to the sky and the earth."
There's nothing like 360 days a year of pure sunshine to cleanse the soul and renew the spirit. A Mirasol client and wonderful poet wrote that, "The most remarkable aspect of all was the deep abiding peace that felt like a shawl of white light encompassing Mirasol and all who entered this spiritual, healing sanctuary."
As deserts go, the Sonoran Desert is remarkably wet, receiving up to one foot of rainfall per year during two annual rainy seasons. Native plants are designed to capture and hold the moisture they need to survive extended drought. And they are well-equipped to defend themselves in a harsh environment with spikes, spines, thorns and aromatic resins. Talk about good boundaries! We can learn a lot from these hardy desert survivors!
Visit the whole foods section of any grocery store and you'll find shelves of herbal products containing plants that grow in every empty lot and right-of-way here in Tucson. Maybe that's why Tucson's medical community is so open to alternative healing techniques. The University of Arizona offers a program in integrative medicine that was initiated by Dr. Andrew Weil. Mirasol is based on Dr. Weil's integrative medicine philosophy, which honors traditional allopathic healing combined with empirically effective alternative interventions.
When you consider Mirasol, whether you're a graduate or just beginning to think about treatment, visualize the canopy of mesquite trees, the silhouettes of saguaros in the moonlight, the palo verdes with their spray of yellow blossoms and the sweet smell of creosote bush after a summer rain. Our desert environment is part of our mission to help women find meaning and restore balance in their lives. As one client said, "I found healing and a spiritual connection. It's hard to put it into words without sounding silly, but I found myself there. I found a way home."
Warmly,
Jeannie Rust, PhD
Winter Camping in the Desert
A winter camping trip for teenage girls with eating disorders? Only Mirasol would attempt anything so obviously nutty — and turn it into a resounding success!
The logistics were daunting: tour organizers had to assemble enough tents, folding tables, chairs, sleeping bags, climbing gear and cooking gear for six girls and a support crew including two therapists, a chef and a counseling assistant. Then the weekend before the trip, Tucson experienced a freak snowstorm that turned the campsite into a muddy mess.
"We were ready to pull the plug at the last minute," says therapist and organizer Diane Ryan. "But we had prepared the girls for cold weather camping, and given them a full schedule of what we were going to do."
This was the second such trip organized by Ryan, a therapist at Mirasol's adolescent residential eating disorder treatment center. An experienced hiking guide, life coach and personal trainer, Ryan is a firm believer in the healing power of the desert.
"Even a short time away from the niceties of urban life can promote self-sufficiency, self-reliance and interdependence. This is especially true for girls with eating disorders, who often come from a background with considerable entitlement," says Ryan. "It's nice to be able to strip some of that away and get down to what's essential. It gives the girls a sense of what they can do, and takes the focus away from how they look."
You'd think these teenagers might resist spending two days in the desert, far from showers, flush toilets and hair dryers. But there was 100% participation in both the Mount Lemmon Trip and a previous camping trip in the Dragoon Mountains.
"Our clients know that we're committed to their recovery, and that everything we do is designed to support that goal," says Ryan. Their concerns about everything from desert creatures to who washes the sleeping bags were thoroughly discussed, so there were no surprises. "The rent-a-snake showed up right on cue," Ryan jokes, "and none of the girls panicked." Even the most nervous camper remarked that, "I'm still uncomfortable, but somehow I feel more myself than I've ever felt".
Between the first and second camping trips, Ryan put together to put together pieces of the puzzle that would form the basis of her master's thesis. "If this is a modality that's effective in treating eating disorders, it might show up in altered brainwaves," Ryan reasoned. Working with Joe Horvat and Bill Eck, Mirasol's neurofeedback experts, she devised a plan to measure the apparent improvement in the clients' mental health. All participants received brain maps and completed a Children's Depression Inventory (CDI) and a Coping Skills Inventory before and after the Mount Lemmon trip.
As of this writing, the test results are still being processed. Empirical verification of the value of wilderness experience for eating disordered clients could open many doors for both Diane Ryan and Mirasol. But even if there's no way to measure their value, the experience of camping together will be continue to be treasured by staff and clients alike.
Another camping trip is in the works for later next month.