February 2011 | Letter from the Founder | IAEDP | Love Your Body
Letter from the Founder
Dear Friends,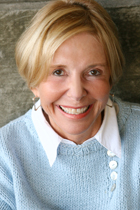 What a joy it is to write about what we've accomplished in the past few months! Yes, we survived the cold. Can you imagine 15° F in the desert? But we didn't hibernate during the cold snap. Here are a few of the changes at Mirasol:
Both units have been re-licensed as level I, sub-acute care residential mental health facilities. This enables us to contract with insurance companies that were previously unavailable to us, including "The Blues".
We completed the renovations at our east side Tucson residence, which re-opens February 22 under its new name, "Mirasol-Catalina".
We moved into our new business office in cental Tucson at 1615 East Fort Lowell Road. The new office is near "Mirasol-Catalina", our central Tucson residence, and has room for support groups and individual sessions with holistic practitioners and therapists.
Our support group, facilitated by Ann Twilley, LPC, meets at the office on Thursdays from 5:30 to 7:00. A support group just for family members will begin meeting there in April.
Best of all, our new location will allow us to launch our adolescent outpatient program. The program will be open to boys as well as girls ages 12 to 17. Groups will meet for 12 weeks on Monday and Wednesday evenings and Saturday mornings. As part of our family systems based philosophy, parents will work with the clients during one session per week.
Please give us a call at 888-520-1700 to learn more about Mirasol and what we can do for you or someone you love.
Warmly,
Jeanne Rust, PhD
"Love Your Body Day" at the University of Arizona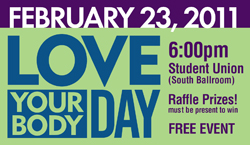 In honor of National Eating Disorders Awareness Week, Mirasol is cosponsoring "Love Your Body Day" at the University of Arizona on Wednesday, February 23. Jessia Setnick, MS, RD, creator of "The Eating Disorders Boot Camp", will offer free training for professionals from 8:30 to 11:30 at Campus Health Service, 1224 East Lowell Street, on decoding eating disorder language, practical strategies for complicated dilemmas and finding validation and support for your work. RSVP to Gale Welter, 621-4550.
Setnick will speak to students about, Making Food Your Friend Again: How Did America's Relationship with Food and Body Image Get So Out of Control? in the Student Union South Ballroom from 6:00-7:00 pm. Both events are free and open to the public.
Attention, Arizona Eating Disorder Professionals!
IAEDP, the International Association of Eating Disorder Professionals, now has two chapters in Arizona!
The Tucson Chapter will hold its next quarterly meeting and from 4:30 to 6:30 pm on Friday, March 11, at U of A Campus Health Service, 1224 East Lowell Street, Tucson. The featured speaker is Harriet Brown, a writer, magazine editor, and professor of magazine journalism at the S.I. Newhouse School of Public Communications at Syracuse University. Brown is the author of Brave Girl Eating: A Family's Struggle with Anorexia. Register online at www.iaedp-az.org.
Dr. Steven Karp, Medical Director for Rosewood Centers, will address the Phoenix Chapter quarterly meeting on Tuesday, April 12, from 8:00 to 10:00 am at the Cowden Center, 9202 N. 2nd Street, Phoenix. Register online at www.iaedp-az.org.
The Tucson and Phoenix chapters will collaborate on major events, including a dinner during the IAEDP National Symposium March 3-6, 2011, in Phoenix. Join IAEDP at a Phoenix or Tucson chapter meeting, and you'll get a $95 discount on your first year's membership dues, as well as a $75 discount on registration for this all-important international industry-wide networking event.
Learn more aboutthe benefits of IAEDP membership at www.iaedp-az.org