January, 2009
Orthorexia | New Visiting Therapist Program | Workshop for Students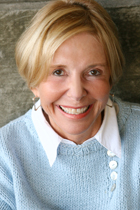 Letter From the Founder
Dear Friends,
Eating disorders come in many different flavors. In addition to anorexia, bulimia, compulsive eating and binge eating, there are dangerous relationships with food that sometimes masquerade as "healthy" behaviors. The apparent goal of compulsive exercise is to burn calories and lose weight, but it can easily become just another way of coping with stress and escaping inner pain and guilt.
The twin sister of compulsive exercise is orthorexia, when healthy eating, taken to extreme, becomes a life-threatening illness. And it's growing by leaps and bounds! Dr. Dawn does a wonderful job of explaining the condition to us. If you have any questions about orthorexia or any other eating disorder, don't hesitate to write to us!
Warmly,
Jeanne Rust, PhD
Orthorexia: An Eating Disorder in Disguise
By Dawn Bantel, NMD
As a naturopathic physician, I often make dietary recommendations. Food allergies and sensitivities can have profound impacts on one's health, and avoiding suspected allergens often clears up chronic conditions. For example, children with chronic ear infections frequently improve with the elimination of dairy products. Many Mirasol clients report that eliminating gluten from their diets has improved their ability to heal, and most people are now aware of the impact of trans-fats on cardiovascular health.
Occasionally, though, I encounter clients who are consumed by the pursuit of what they consider to be "healthy eating". "Orthorexia" is a term used to describe an excessive focus on eating healthy foods. It isn't considered an official psychiatric diagnosis such as anorexia or bulimia. Because of this, affected individuals and their families may not recognize it as an eating disorder, and well-intentioned health practitioners can unknowingly contribute to this disorder.
Orthorexia can be as life-consuming as other eating disorders. The person's thoughts and daily activities revolve around food. There can be a rigid and obsessive quality to meal preparation. Often the person's rigid diet makes it difficult to participate in social activities, resulting in isolation. The individual's self-worth or self-aggrandisement can be connected his or her ability to adhere to the diet. Orthorexic patients usually have somatic complaints (perceived physical ailments) after the ingestion of foods that don't conform to the dietary framework they have created.
Fortunately, people afflicted with orthorexia can benefit from eating disorder treatment. Therapy can delve into the underlying issues that contribute to orthorexic thoughts and behaviors. EEG biofeedback can help the brain overcome depression, anxiety or obsessive-compulsive disorder. At Mirasol, we try to determine which "healthy" foods may actually be detrimental to the individual's health, while helping her to create a balanced approach to eating.
For more information about orthorexia, see www.orthorexia.com.
Survival Skills for Health and Recovery in College
Half-Day Workshop Teaches Skills to Support Your Path to Recovery
Join us for this exciting new workshop on staying healthy while you stay in school. Learn new skills for managing the conflicts that come with body insecurity, low self-esteem, building a support system, and managing an eating disorder. This four-hour workshop includes education, discussion, experiential activities and coping skills that you can take with you into your next semester. Open to college students 18 years of age and older.
Presenters:
· Ann Twilley, MA, LAC, EFT certified
· Diane Ryan, MA, CPT
· Lynne MacNeil, MATS, LMSW.

Saturday, February 28, 2009, from 1:00 to 5:00 pm at the Radisson Suites, Tucson, 6555 East Speedway. $75 covers the workshop, snacks, beverages and all supplies. RSVP to atwilley@mirasol.net.
1-888-520-1700 or recovery@mirasol.net © 2008 Mirasol, Inc. All Rights Reserved.