July, 2014
Letter From the Founder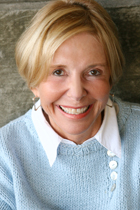 Dear Friends,

Mirasol is having a birthday this month. We are 15 years old! What a remarkable journey we've had. I've always considered Mirasol to be a separate entity. She is organic, sometimes growing, sometimes contracting, but always vital. We are going to be experiencing a spurt of growth in the next few years and I've told our wonderful staff of 68 people to put on their seatbelts and get ready!
Mirasol has been going through some very exciting times in the past few months!
We have a new Utilization Review & Billing Director who also recently joined the Mirasol team. Her name is Connie Burnett. She is an expert at insurance, insurance reviews, appeals – literally everything that can increase the number of days an insurance company authorizes for treatment. She will be responsible for oversight of all Mirasol private and third party payor matters (for all of our various programs and services), including:
- securing insurance pre-authorizations
- completing insurance coding and billing
- doing concurrent review
- all the while "beautifully organizing" all of the above.
Connie has years of experience working with insurance companies and is on a first name basis with many insurance reviewers and case managers, both in Arizona and out-of-state. We welcome her with open arms.
Gratefully,
Jeanne Rust, PhD, LPC
Founder and CEO Mirasol
Mirasol's New Behavioral Health Components
A need exists for compassionate and effective treatment for many so-called behavioral health/psychiatric conditions. In the new Mirasol, we will still treat clients who have a dual-diagnosis but an eating disorder does not need to be a part of the diagnosis.
This fall we'll be adding to our existing program base by expanding our services to include treating people with depression, anxiety, trauma, PTSD, mood disorders, and other psychiatric diagnoses as stand alone conditions.
We will be adding autoimmune disorders and chronic illness to our treatment mix. Anecdotally when we have had women with an eating disorder and fibromyalgia and/or chronic fatigue syndrome admit for treatment, most of the time they will leave Mirasol symptom free! This is a wonderful area for research.
These programs are open to both our adolescents and adults.
We will still continue to treat eating disorders as our #1 specialty.
Continuing Education Courses
I've wanted to tell you about my friend, Mardie Burkes-Miller's September training at Mirasol. IAEDP Approved, Eating Disorders Institute Graduate Program or Advanced Professional Training. Plymouth State University offers a dynamic, innovative and cutting-edge program for mental health and health care professionals, dietitians/nutritionists, and school/outreach professionals. The program expanded to a new site with our host partner, Mirasol Recovery Centers in Tucson, Arizona. This program is for professionals seeking additional specialization in eating disorders with a varietyof options including: 15- credit graduate certification, advanced degrees, or personal/professional development in a workshop setting. PSU's eating disorders courses/workshops provide professionals with research-based tools, techniques and strategies to use in medical treatment, mental healthcounseling, nutrition counseling and education and outreach. The second co-hort groups first workshop, Intro to Eating Disorders begins online mid- November and residential in Arizona in January. This is a series of four 3-credit graduate courses or advanced training opportunities in an intensive 2 ½ -day residential format. It is also for those interested in becoming a Certified Eating Disorders Specialist for International Association of Eating Disorders Professionals, (IAEDP) in behavioral health, nutrition, or nursing. Plymouth State University's program is the oldest and the only IAEDP approved graduate program in the country. Act now to sign up. Rolling
Contact Mardie at:margaret@plymouth.edu, call (603) 535-2515 or visit: Plymouth University
These are great courses – and Mardie's professors are delightful and so knowledgeable! I know you'll enjoy them.