June 2012 | Stop Eating Your Heart Out | Editor's Note | Teen Unit | Recipe
Note from the Editor and CEO, Jeanne Rust, PhD, LPC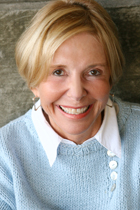 Dear Friends,
We have also opened up two additional new programs for Mirasol.  Our adult intensive outpatient program (IOP) started at the beginning of the year treating local area residents with the same results-proven integrated methods of treatment that Mirasol is known for.
Mirasol has also opened a partial day program, called the Transformation Living Center or TLC where housing is provided in conjunction with our IOP program. We have a very cute 3-bedroom apartment where our partial day patients stay. They have supervision by a counseling assistant, do quite a bit of their own shopping and cooking, and attend the IOP program as well as any 12-step meetings they find helpful. They are required to either attend school or look for part-time jobs or volunteer work.  The partial program is proving to be a wonderful transition between treatment and full integration into regular life.
I am working with Meryl Beck, author of  "Stop Eating Your Heart Out."  She and I are putting together a series of eating disorder related webinars. The focus on the first series of webinars is binge eating and compulsive eating.  It kicks off with some nationally prominent people who are rock stars in the binge-eating world. They have generously agreed to provide an hour of their time to talk with us about their experiences with binge eating and other eating disorders.
Warmly,

Jeanne Rust, PhD
Editor/CEO/Founder
Mirasol
Free Eating Disorder Support Group!
Mirasol offers a free weekly eating disorder support group for adults struggling with anorexia, bulimia and compulsive eating. Professionally staffed by Mirasol Eating Disorder Recovery Center therapists every Thursday from 5:30 to 7pm at 1615 E Fort Lowell Road (1-1/2 blocks west of Campbell on Fort Lowell). For more information, call 520-546-3200 or email Ann at support@mirasol.net.
Stop Eating Your Heart Out
The 21-Day Program to Free Yourself from Emotional Eating
STOP EATING YOUR HEART OUT: The 21-Day Program to Free Yourself from Emotional Eating, written by former binge eater turned psychotherapist, Meryl Hershey Beck.
Meryl has developed a tried-and-true process for finally breaking the cycle of emotional eating, and dissolving its hold over you. Her book is as inspiring as it is practical, and I highly recommend it!
"An excellent resource for you if you want to learn many ways to deal with food cravings and related challenges. This is one of the best books on eating disorders that I have seen "
Daniel J. Benor, MD, ABIHM
Author of Seven Minutes to Natural Pain Release
Note: For a limited time, when you order STOP EATING YOUR HEART OUT, you'll get lots of valuable bonuses - like e-books, educational and inspirational recordings, videos and even a teleseminar - from some of Meryl's favorite mentors and colleagues.

These generous experts have given Meryl permission to share some of their best material with you, as her special "Thank You" for being part of her book's debut. These include some powerful life-enhancing tools, with a total value of many times the book price, and they're available for a limited time if you purchase through the following link. Stop Eating Your Heart Out
Included in the bonuses is Meryl's upcoming teleseminar: "Stop Eating Your Heart Out: Conversations & Teachings about Emotional Eating" with author Meryl Hershey Beck, M.A., M.Ed., LPCC and Jeanne Rust, PHD, Founder of the Mirasol Eating Disorder Center.
In her book Meryl tells her story of climbing out of the hell of her own binge eating disorder, then shares the tools of recovery she discovered that were so effective in freeing her from her suffering. Her clients have also used these methods with great success. Meryl realized she needed to get this system out to more people, so she wrote it down and now you can learn it too!
The best part is that, although the book examines emotional eating, the 21-day program can actually be used to change any habit.
Click here to read more and purchase the book.
The TEEN Unit has reopened! All we can say is Wow!
Mirasol's adolescent residential program is licensed as a Level I sub-acute mental health facility that is a preferred provider for Blue Cross Blue Shield, UHC and most other major carriers.
Like Mirasol's acclaimed adult residential treatment program, Mirasol Teen is staffed by a multidisciplinary treatment team including psychiatrists, psychotherapists, nurses, doctors and dietitians who work closely with practitioners of alternative medicine, including neurofeedback, EMDR and adventure therapy.
By identifying the root cause of their eating disorders and teaching new ways of communicating and coping, Mirasol Teen helps girls ages 12 to 17 acknowledge the past, live in the present, and achieve the rich, full lives they deserve.