June, 2013
Letter From the Founder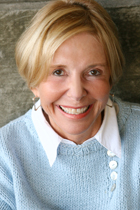 Dear Friends,

It's always nice to receive national recognition for the hard work that the Mirasol staff and family does to provide the best treatment to its clients. This month I want to share with you our recognition by CARF and Mirasol's Award for "The Best Eating Disorder Blog
Mirasol Eating Disorder Treatment Centers Was Given High Marks and a 3 Year Accreditation from CARF

Tucson, AZ -- Mirasol Eating Disorder Recovery Centers renewed it's 3 year accreditation from CARF, The Commission on Accreditation of Rehabilitation Facilities. The survey team spent two days on-site going over Mirasol's "Aspire to Excellence," General Program Standards and Behavioral Health Care Program. The survey summary is as follows:
Mirasol's founder, Dr. Jeanne Rust, is a visionary whose dynamic leadership has realized a life's work dedicated to the wellness of those challenged by eating disorders. The founder's passion and tenacity in accomplishing this vision have garnered the respect of peers and colleagues and afforded Mirasol an opportunity to hire and retain competent staff members.
Throughout the organization, staff members are passionate, competent, and committed to providing innovative and state-of-the-art alternative and evidence-based practices that have resulted in service outcomes beyond industry expectation.
Mirasol utilizes a holistic approach in its intensive, therapeutic treatment program, which includes traditional and experiential modalities to maximize effectiveness in achieving positive outcomes.
Interdisciplinary team members, which include master's-level therapists, child and adolescent psychiatric interns, a naturopathic physician, nurses, dietitians, and a neurofeedback specialist, are highly skilled and work together in an integrated approach. The team plays an active role in providing psychological, medical, and emotional support to individuals who are typically resistent to treatment, which allows Mirasol to achieve outcomes that exceed industry standards.
The high staff-to-client ratio is advantageous to client care with high levels of satisfaction reported.
Client care is provided in beautiful, bright, airy, and spacious surroundings with a southwestern motif at the base of the mountains, which complements the natural healing process.
On balance, Mirasol demonstrates substantial conformance and commitment to CARF standards. Since its inception, the founder's vision to offer state-of-the-art alternative and evidence based practices to combat eating disorders continues to produce highly successful outcomes for clients challenged in this area. Mirasol's accompanying work with symptoms of depression, anxiety, and trauma is also impressive. This extensive array of services, along with the staff's dedication and the facilities' complementary and beautiful aesthetics, contributes to a well-rounded program.
Dr. Jeanne Rust, owner and founder of Mirasol says, "To receive this complimentary and affirmative survey report from CARF, an objective, industry-wide accreditation commission, is an attestment to the expertise of the Mirasol team and our unique treatment model that produces higher than industry standard results."
Mirasol is a CARF-accredited, residential eating disorder treatment program for women and teens founded in 1999 that focuses on the relationship between the mind, body, nutrition, and mental health. Its mission is to heal the mind, body and spirit, promoting therapeutic transformation in individuals, and, ultimately, in families and communities.For more information call 1-888-520-1700 or visit the web site at www.mirasol.net.
Mirasol's ED Recovery Blog was Awarded the Best of the Best for Eating Disorder Blogs
Because of Faith's posting and contribution, Mirasol was awarded the Best Eating Disorder Blog.
Faith wrote an insightful blog concerning the lack of awareness concerning eating disorders. She brings out in thought-provoking language how other worthwhile causes like breast cancer awareness receive coverage in different forms to help create support, so why not do the same for eating disorders? Faith states that "Everybody knows somebody," and it can be so beneficial if eating disorders could receive the same kind of attention through events and fanfare that other causes receive.
Faith lives in a rural area where very few physicians in clinical practice have had experience concerning eating disorders. There is not enough time or attention given to the problem. Faith's well-written, informative blog was chosen to receive an award because she has portrayed her message in a sensitive manner that easily comes across to readers. She brings home how important it is to speak up about eating disorders, taking action and doing one's part to help bring about greater awareness. After all, everybody does know somebody who may be battling this issue. Kudos to Faith for doing her part to bring eating disorders to the attention of others and helping readers become more aware of what still needs to be done.
For more information visit Residential Treatment Center "Best of Blogs"