March, 2007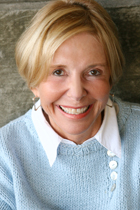 Letter From the Founder
Dear Friends,

As women in today's world, we face many different kinds of challenges. We may need to heal a broken heart. We may need to deal with depression and panic attacks. We may experiences feelings of shame and low self worth. We may be overcome with grief. Or we may need to recover from an eating disorder.
Seeking treatment for an eating disorder means challenging our old behaviors. To boldy confront and defy the eating disorder, we must summon all of our stength and skill. We defend our rights as human beings to live the lives we choose. We learn that many of our self perceptions are unjust and invalid. We learn that we deserve to be well.
This month's newsletter is devoted to the subject of food challenges. I hope you enjoy it!
Challenge Foods: When Being Bad is Good for You!
"Do you really take them to McDonald's?" wondered a visitor to Mirasol's table at the 2007 IAEDP conference. "Why would you do that? Isn't Mirasol a whole foods organization?"
Well, yes we are (see the July 2006 Sunflower for more information about Mirasol's whole foods approach). And yes, we sometimes take our clients to McDonald's, Eeegee's, Starbuck's and other establishments that aren't exactly "health food" restaurants. It's all part of Mirasol's commitment to "keeping it real" for women in residential treatment for eating disorders.
Fear of specific foods or of whole categories of food — such as fats or animal products — is common for someone who suffers from an eating disorder. Different foods will trigger a strong emotional response depending on the client's genetics, hormones and personal experience. It could be a food that an anorexic restricts, or a bulimic's choice for bingeing.
"Some eating disorder programs encourage complete avoidance of these 'trigger' foods," explains Monica Nicholas, Dietitian for Mirasol's teen residence. "Whereas we want to encourage the client to dive into the feelings associated with the food, so the feelings can come up and be processed."
"I want them to come up to their edge, and then step over it," says Lauren Kanzler, Nutritionist for Mirasol's adult program. "They're so afraid of falling, but when they step over the edge, they find out they can fly."
"For example, a bulimic who likes to binge on burgers and fries may associate those foods — and even the restaurants themselves — with feelings of being overweight, unworthy and out of control," says Monica. "A trip to the local burger joint is a perfect opportunity to learn how to deal with those emotions and how to eat all foods in a healthy way."
"We deliberately expose them to difficult situations," according to Kanzler, "so they can develop the skills they need to live in the real world."
Eating out is an enormous challenge for most clients. "During treatment, the women learn to trust the food at Mirasol, but dining out is a huge unknown," says Lauren. Regular "opportunity snacks" help the women learn to eyeball portions and incorporate "fun foods" into their meal plans. The women choose foods that they don't normally allow themselves or that appear risky to them. "If we don't have it here, we'll get it for them," says Kanzler. The snacks match the client's meal plan, replacing equivalent protein, carbohydrate or fruit calories.
"Encouraging the clients to eat a challenging food helps them build trust in themselves," says Monica. "They can experience first-hand that the food is not going to harm them." Before the famous trip to McDonald's, Monica showed the girls a menu and helped them figure out what they would order and how it would fit into their meal plans.
"I told them they could get whatever they wanted," say Monica. "One client ordered a salad and a yogurt parfait, but just walking into the restaurant and ordering food was a major achievement for her."
Group support is very important, and both Monica and Lauren try to prepare their clients for temporary setbacks. "There are no failed experiments here," says Lauren. "If it doesn't work, it doesn't mean 'I can't do this'. It just means, 'For now, I choose not to have this in my life.'
"We're a whole foods organization," says Lauren, "but we want our clients to be comfortable with all types of food, including food that we don't necessarily consider healthy."
Monica agrees. "The message is 'everything in moderation'. Some of the girls come into treatment with a morphed perception of healthy food. Our goal is removing some of the rigidity and ritual around food, and teaching them to cope with whatever feelings come up rather than having to stuff them down with food."