March 2010 | Letter from the Founder | Video: Cooking with Chef Robert | Recipe
Letter from the Founder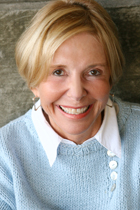 Dear Friends,

Mirasol clients often rave about our food. This is high praise indeed, given that so many of our clients struggle to consume the minimum required for good health and vitality.
I love greeting new clients and returning to visit a few weeks after admission. They look like little light bulbs have been turned on over their heads — absolutely radiant! I know that they've already begun to work on the issues surrounding their eating disorders. But I also know that I'm seeing the results of eating the Mirasol way. Lots of fresh fruits and vegetables. Clients may not choose to eat this way when they return home, but while they're in treatment, we make sure they get the nutrients they need to heal.
We have always employed very talented chefs at Mirasol — men and women who can not only prepare excellent nutritious food, but who do so with a great deal of love, respect and reverence. Our cooks cook with intention!
Warmly,
Jeanne Rust, PhD
Cooking with Robert: Mirasol's Creative New Chef
There have been big changes in Mirasol's kitchen, thanks to our new chef, Robert Kuzyk. Kuzyk, who joined Mirasol's kitchen staff after working in four-star restaurants at country clubs in Kansas and Arizona, believes in maintaining an "open kitchen", encouraging clients to repair their relationships with food by becoming more involved in the process of creating it.

"What I like to do is help the clients overcome their fears of certain foods by actually cooking those foods with them," says Kuzyk.
Robert describes his work with Mirasol clients as a 'building process.' "The first step is getting them to trust me, and then walking them through the process of preparing the food, so that they realize that what they're getting is nutritional, healthy food that also fits into their meal plans. I have prepared beef for women who haven't eaten beef in six years. Even some women who are strict vegetarians have been persuaded to try fish, or shrimp or crab cakes."
"Robert is very good at encouraging women to come into the kitchen little-by-little and coaxing them to try something they haven't tried before," says Mirasol Clinical Director Diane Ryan." He's also really great about teaching them to prepare foods they really like — maybe something they remember from childhood, like a special dessert or even just macaroni and cheese. And they can develop recipes and recreate those foods when they return home, and we find that's really good for aftercare and for the recovery process in general."
"A lot of the clients are hungry to learn how to cook," according to Kuzyk. "They have never spent any time in the kitchen. As a chef — and a teacher — I try to teach them not only how to work their way around in the kitchen, but also to look at food as a palette."

"Robert's food is phenomenal! There isn't a restaurant in the country that wouldn't be proud to serve his food."
"But it isn't just the food, it's how he infuses the food with so much care and consideration and respect for the clients and what they're going through. He is really able to see how what he cooks translates into an actual foundation for recovery. And that's where the genius of the food really lies. It gives the clients the feeling of being loved and supported and listened to, and it makes a huge difference."
Kuzyk derives a great deal of personal satisfaction from helping Mirasol clients discover the joy of preparing and eating healthy meals.
"I used to think it was all about money and prestige," says Kuzyk, reflecting on his years at the country clubs. "But I find more gratification being here at Mirasol and teaching these women what they need to know to be able to return home and live a normal life. I don't think I could ever go back. My heart is in a different place, and I think that helping these women get where they need to be is more important than any executive chef's job in the world."