May, 2006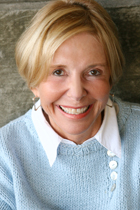 Letter From the Founder
Dear Friends,

We hear so much today about the mind-body connection. We are inundated with products, programs, and advertisements promoting the mind-body-spirit connection. I thought I'd take this opportunity to explain to you what the mind-body-spirit-soul connection truly is ... and what it is not.
Oftentimes when I'm speaking with prospective clients or parents on the phone, I ask them to take out a piece of paper. In the right hand margin of the piece of paper, I ask them to draw a little circle. In the left hand margin, I ask them to draw a stick figure without a head. Give this a try! This is a picture of a person with an eating disorder -- a person who is completely disconnected from her body. She may have an active, bright mind but she has absolutely no mind-body-spirit connection.
When we treat a person for an eating disorder, the goal is to reestablish the mind-body-spirit connection and to achieve a graceful integration of all parts of the person. We can't treat only one part of a person and expect to have lasting results. At Mirasol, we want our clients to begin living lives filled with greater physical, emotional and spiritual well-being.
Our emotions, attitudes, and belief patterns all have profound effects on our physical beings. They produce physiological changes in the endocrine glands through the hormones they supply to the body. Therefore what we think, feel, and experience is directly related to our physiology and to our health (or lack of health). Technological advances alone -- no matter how miraculous -- cannot replace simple kindness, love, and awe for our inner vision, nor is the medical model particularly effective in the treatment of eating disorders.
Many programs claim to be committed to mind-body-spirit treatment. However, this is not accomplished with an optional session of body work or acupuncture. It can only be accomplished by making sure that each client participates equally in all of the mind-body-spirit interventions that are offered.
We nourish our bodies by listening to their needs for rest, exercise and nutrition. Our bodies teach us that we have limitations. We educate our minds, but all too often we ignore our spiritual selves. Listening to our souls helps us to know how we are needed. Our souls teach us that love is limitless.
When we channel our physical energy into soulful pursuits, we create meaningful lives filled with the sense of purpose and vitality that characterizes true health. This is exactly what I wish for each one of you!
Our special section this month is on dance/movement therapy. DMT is one of the most powerful ways of helping people reestablish the mind-body-connection. I hope you enjoy this information! Please feel free to write me any time.
Warmly,
Jeanne Rust, PhD, LPC
Founder and CEO Mirasol
"The Body Says What Words Cannot"
This quote from Martha Graham is a perfect description of Dance/Movement Therapy (DMT), one of the many creative arts therapies used at Mirasol Eating Disorder Recovery Centers. Robin Memel Fox, one of our primary therapists, is both a registered Dance/Movement Therapist and a Licensed Professional Counselor.
The American Dance Therapy Association defines DMT as "the psychotherapeutic use of movement as a process which furthers the emotional, cognitive and physical integration of the individual". Dance/movement therapists work with both groups and individuals in a wide variety of settings, helping clients improve self-esteem, body image, and self-awareness by expanding their movement vocabulary and creating new coping skills.
DMT therapist Robin Memel Fox (right) demonstrates dance therapy techniques with assistance from Ana Guzman (left), a summer intern from Spain. The stretchy blanket is used to promote trust and support. "It's very Martha Graham," says Robin.
"Dance and movement are basic forms of authentic communication," says Robin. Because they are direct expressions of the self in relation to the body, they can be used to help individuals identify strengths, feelings, memories and behaviors. Experiences of past physical, emotional and sexual trauma stored in the body may be evoked through movement expression, providing clients with new ways to express their emotions without the need for words. This is particularly helpful for people with eating disorders, who often detach from their physical selves to avoid painful emotions, sensations and memories. DMT is also a powerful antidote to the distorted body images that are common in eating disordered individuals.
A typical DMT session might include the use of recorded music or instruments, props such as scarves, balls and "Body Sox"™. Music may serve as a catalyst, but not always. Some clients move without music, as the therapist guides them to explore their internal rhythms, sensations, emotions and tensions within the body.
"There's no set formula for a DMT session," Robin explains. Content evolves organically within the group through cooperative or solo movement, dance, games, free expression and play. The therapist creates safe environment and serves as a witness to the client, observing the body, guiding and verbally processing the movements.
"For clients who are traumatized and disconnected from their bodies, just becoming aware of one's breath and simple body sensations can be a huge step," according to Robin. Some clients - especially clients with formal dance training - struggle to let go of their "inner critics," but most will be surprised by how much they are able to let themselves go while learning new ways to express themselves.
To learn more about DMT, visit the American Dance Therapy Association website at www.adta.org.