May, 2008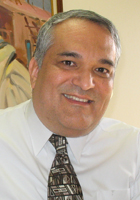 Meet Mirasol's New Executive Director! David Romero, MC, LPC, MBA, Mirasol's new Executive Director, brings to the position more than 20 years of supervisory experience in managed care. He is also a State of Arizona Licensed Professional Counselor with specific expertise in addiction and sexual abuse treatment, education and clinical management. His educational background includes a Master's in Counseling from Arizona State University and graduate research at Harvard University. He also holds an MBA from the University of Arizona's Eller School of Management. He was a member of the Senior Management Team at America West Airlines as the Director of Employee Assistance Program. He has a personal and professional interest in the field of integrative medicine and its ability to transform people's lives.
The Wild Brain: ED and Adventure Therapy
Wilderness therapy — also known as adventure-based therapy or ABT — is a well-established intervention for a variety of psychological disorders including substance abuse, adjudicated youth, PTSD, depression and anxiety disorder. For the treatment of anorexia nervosa and bulimia, the "gold standard" is generally cognitive behavioral therapy (CBT). However, research conducted by Mirasol over the last two years has demonstrated that adventure-based therapy (ABT) is also highly effective in the treatment of eating disorders.
The goal of adventure-based therapy is to create unusual, physically and emotionally challenging circumstances that stimulate problem-solving and coping strategies. By requiring clients to work together to solve common problems, ABT also promotes the development of social skills and self-confidence.
"Women with eating disorders tend to be overly analytical, self-critical and completely dissociated from their bodies," says Mirasol's Diane Ryan, a certified adventure-based psychotherapist. "Wilderness puts them in a situation that requires risk-taking and problem-solving. And that's really what recovery is all about — getting out of your comfort zone."
Challenge courses, hiking and other outdoor activities have always been part of Mirasol's eating disorder treatment program. But in the spring of 2006, Ryan began adding wilderness experiences including camping, hiking and even caving (see "The Kids Go Camping," February, 2007. The response from clients and staff was overwhelmingly positive. More importantly, EEG brain maps and standard psychological tests demonstrated significant decreases in symptoms of anxiety and depression.
"There was a significant improvement in brain functioning for most participants, especially in the theta waves that are generally associated with anxiety," says Ryan (see "High Tech That Heals", June, 2006). Most clients also reported a decrease in symptoms of depression and an increase in their ability to cope with stress, as measured by a Children's Depression Inventory (CDI) and Coping Skills Inventory (CSI) administered before and after the camping trips.
Mirasol now offers multi-day camping trips for both adult and adolescent clients about six times per year. Each one requires a major mobilization of personnel and equipment to provide staff support, programming, food and shelter in a remote location.
The most recent mini-expedition was a two-day trip to Alamo Canyon, an isolated primitive campground in the heart of Arizona's fabulous Organ Pipe National Park. With limited shade and temperatures climbing into the 90s, the women scrambled to unload their gear and erect large tents. Their reward was a late afternoon hike to an old homestead where a tiny stream creates a rich riparian environment. Evening brought cool breezes, a dramatic sunset and a fabulous multi-course meal prepared by chef Karen Patch in her "field kitchen". After dinner, we examined the starry, starry night sky with a telescope, including an astonishing close-up of Saturn.
The heat, the long drive from Tucson and the remote setting created serious challenges, but also provided an opportunity to meet the desert on its own terms. Each client was allowed to spend some "alone time" — a rarity in residential treatment — in the desert, and one slept outside under the stars for the first time in her life.
"Despite the difficulties, in the process group after the trip, 80% of the women had a positive reaction, and some described it as a life-changing experience," says Ryan.
"Women with eating disorders are generally so filled with shame that it's difficult for them to feel connected with themselves and with other people." And there's something about spending time in the desert that inspires a profound understanding of a sense of your place in the world and your connection to everyone and everything in it.
More camping trips are planned over the sumer to the White Mountains, Chiricahua National Monument and Tucson's own Santa Catalina Mountains.