May 2010 | Letter from the Founder | Video: Challenge Course | Therapist Weekend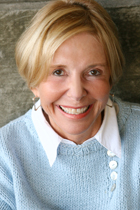 Letter from the Founder
Dear Friends,
I have always believed that we live in a kind and abundant universe. Sometimes it's difficult to maintain that position given the dreadful news about the Gulf oil spill and worldwide economic collapse, global water crisis, species extinction and rapid climate change. But a few weeks ago, I received an e-mail that restored my faith in the universe.
Here are excerpts from the letter:
My daughter was at your facility in 2005 for three months. Before she came to you, I called almost every eating disorder facility in the country. I remember being so impressed with Mirasol because you, the founder, answered the phone. You spent as much time as I needed to answer questions and assure me our daughter would be well cared for.

I don't know if you remember, but I joined a class action lawsuit against Blue Cross/Blue Shield concerning coverage for our daughter's treatment at your facility. During the course of the case, [the insurer] demanded that we turn over all of her e-mails, diaries, journals — anything that they thought might show another cause for the eating disorder. I refused to do that to my daughter, and would not comply with the judge's order. So, I dropped out of the class action suit as a main plaintiff.

One day I Googled the suit to see the status. I was notified that they were going to pay me $31,000! I was so happy, and finally I feel vindicated!

We are going to send you the award money. We know that our daughter would not be where she is today if it weren't for all of the wonderful people at Mirasol. We can't thank you enough for all that you did for her and for us.
I am in the process of setting up a Mirasol foundation so that I can make sure these funds will be used to help other girls and women pay for eating disorder treatment. Although it's not a lot of money, it could make a huge difference in the life of someone who desperately needs treatment.
I am deeply touched and profoundly grateful to this mother who responded to the generosity of the universe by choosing to give back. Pass it on!
Warmly,
Jeanne Rust, PhD
Meet Yourself in Mid-Air!
Challenge Course Helps Heal Family Relationships
As part of Mirasol's family program, both clients and their families participate in high ropes challenge courses, including zip lines, high "V" and giant ladders.
"We've been doing the challenge course for several years now, and it has become a really important part of our program," says Mirasol Clinical Director Diane Ryan.
"It's a great metaphor for what the clients are going through in treatment. Recovery from an eating disorder is a huge challenge, but clients learn that they're stronger than they think they are, that they can access different resources, learn to ask for support, and know that they're not in this all by themselves."
Since the challenge course was so powerful in the normal course of treatment, Ryan decided to incorporate it into Mirasol's three-day family program.
"The exercises help women and their families see how they relate to one another," says Ryan. "We talk a lot about things like enmeshment and enabling. But it's one thing to talk about it, and it's another to get up 40 feet in the air and be leaning on each for support and seeing that one of you is holding back and unwilling to trust. Or seeing how they can push through it by encouraging each other and being clear about communicating what they need."
In the "High V", two people clasp hands and traverse a set of cables in a "V" shape, each walking on one of the cables. The farther they traverse, the more they have to lean on one another. The only way for them to succeed is to put their total trust in each other.
"Adding the challenge course has created a whole different dimension. Families often tell us that it was the highlight of the program. It helps them feel connected and learn to communicate in a different way. So it really does what we want family program to do, which is put them in a place where they will have a whole different relationship going forward."