November, 2006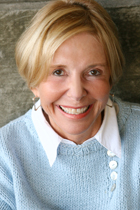 Letter From the Founder
Dear Friends,

A few days ago, a colleague of mine burst into my office with a bunch of papers in her hand. "Jeannie," she said, "you need to read this!"
She handed me a stack of materials from the National Eating Disorders Association designed to help clients and their families obtain insurance coverage for eating disorder treatment. NEDA's Eating Disorders Survival Guide and Insurance Issues documents provide the best information we've seen regarding one of the biggest challenges facing many women who suffer from this life-threatening illness.
We must never forget that even though anorexia has the highest mortality rate of any mental illness, insurance companies routinely deny coverage. We agree with the authors that denying care to people who are so very ill is "discriminatory, illegal, and immoral". You'll read the case histories of two young women who died after being denied treatment by their insurance companies.
As the cost of treatment rises (along with other health care costs), it becomes increasingly difficult for families to pay for treatment. Many are faced with the prospect of refinancing their homes, getting second mortgages or taking out loans from family members or banks. All of this makes me a little ill, but this is our reality. Mirasol continually struggles to keep its costs down. Eating disorder treatment is not cheap because it requires an expert staff that can help patients on all levels — nutritionally, emotionally, physically, medically, sexually and intellectually.
Many insurance companies won't cover eating disorder treatment at all. They claim eating disorders are too difficult and too expensive to treat. They maintain that eating disorders are long-term, chronic conditions, and that most victims will never recover, no matter how much the insurer pays for treatment. In my experience in working with insurance companies for the last eight years, I've found that they routinely employ a number of tricks to avoid paying for treatment. For example, reneging on the authorized length of stay or denying the claim was ever received. Obtaining insurance coverage for eating disorder treatment is a battle that only the persistent can win!
I've been getting more and more calls from people who want to use insurance to pay for treatment. Unfortunately, their policies may exclude eating disorder treatment, or may only cover treatment at acute care facilities for women who are medically compromised.
We need to remember that it's usually our employers who purchase insurance policies, so they're the ones who decide how much they'll spend, including which mental health services will be covered and how much will be paid. With health care costs rising dramatically every year, many have made drastic cuts in insurance benefits.
As policyholders, we're caught between a rock and a hard place: between the insurance company striving to maximize profits, and employers who also need to watch their bottom lines.
It's heartbreaking to receive calls from so many women who either have no insurance, have limited benefits, or who can only go to an acute care setting for one or two weeks.
The NEDA information is a "must read" for families seeking coverage for eating disorder treatment. In this newsletter, I am including a link to both articles so you can read them in their entirety. I am also providing a condensed version of the articles, below, and highlighting the salient points. Make sure you read both articles!
Full text, NEDA's Eating Disorders Survival Guide
Full text, NEDA's Insurance Issues Guide
Cover Me! Getting Your Insurer to Pay for Eating Disorder Treatment