November, 2007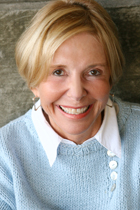 Letter From the Founder
Dear Friends,

At Mirasol, one of our major philosophical tenets is that people need to learn to take responsibility for themselves. With that in mind, we teach that personal responsibility extends into the area of social responsibility. As our clients emerge from the isolation of an eating disorder, they learn not only to embrace themselves, but to reach out to others. They learn that they can improve themselves and the world around them by shouldering their moral obligations to society.
Tony Blair, former prime minister of England, said, "The only society that works today is one founded on mutual respect, on a recognition that we have a responsibility collectively and individually, to help each other on the basis of each other's equal worth. A selfish society is a contradiction in terms."
He went on to say, "At the heart of my politics has always been the value of community, the belief that we are not merely individuals struggling in isolation from each other, but members of a community who depend on each other, who benefit from each other's help, who owe obligations to each other. From that everything stems: solidarity, social justice, equality, freedom."
Warmly,
Jeanne Rust, PhD
Community service is widely used by schools and by the juvenile justice system for young offenders and at-risk students. Can a program designed for juvenile delinquents benefit a straight-A student with an eating disorder?
What's the last place you'd expect to meet a Mirasol client? How about dishing up plates at a local soup kitchen? Incongruous as that may seem, Mirasol clients not only volunteer at soup kitchens, but also wrap holidays gifts for the children of battered women, and assist handicapped children at TROT (Therapeutic Riding of Tucson). It's part of Mirasol's commitment to social responsibility and community service.
Community service was first used in the 1960s to correct, punish or educate a young people in trouble with the law. Today about 4% of those convicted of minor crimes engage in some form of public service as an alternative to incarceration. Community service — also known as "service learning" — has also been embraced by schools for at-risk students. The National Center for Education Statistics (NCES) estimates that between 1984 and 1997, the number of K-12 students involved in service-learning programs rose from 900,000 to over 12 million, while the proportion of high school students participating in service-learning grew from 2 percent to 25 percent.
The potential of community service to provide services not readily available in the labor force was recognized by the National and Community Service Act of 1990. But in addition to addressing challenges in areas such as conservation, education, emergency response, child care, drug use and care for elderly, youth volunteers also benefit from community service by acquiring new skills and a new appreciation for the needs of others.
According to a white paper published by the Constitutional Rights Foundation, mandated community service can help juvenile-justice respondents
understand the impact of their actions on others
give back to the communities they have harmed
learn critical-thinking, citizenship, and problem-solving skills
develop a personal stake in the well-being of their communities, and
raise awareness of their own self worth.
Most importantly, many juvenile-justice professionals see a possible correlation between effective community service, heightened civic awareness, and reduced recidivism rates.
Can community service help a young woman with an eating disorder? The typical teen anorexic or bulimic is a well-behaved overachiever — a straight "A" student with a spotless record. How could she benefit from a program designed for juvenile offenders and high school drop-outs?
Although her social milieu could not be more different, the young offender and the young eating disorder victim may have a shared history of sexual or physical abuse, absent or emotionally unavailable parents, along with low self-esteem and negative attitudes about self-control and discipline.
Some residential treatment programs — including Mirasol — now include a community service component. It's an integral part of the recovery process at Gray Wolf Ranch, a substance abuse program for men ages 14 to 25 in Port Townshend, Washington. Volunteers work for groups like Habitat for Humanity, the Port Townsend Aero Museum, the Northwest Maritime Center, and the North Olympic Salmon Coalition.
Says Program Director Woody Bernas, "The nature of addiction is to be self-centered, and the antidote is to reach out and focus on other people's needs. Volunteering in the community is one way to make a contribution."
The May, 2003, issue of "Health & Social Work" featured an article entitled, "Twelve-Step Recovery and Community Service" that reported on the experiences of 33 members of a 12-step fellowship who engaged in community service as part of their recovery process. One third of the respondents claimed that community service was integral to recovery. According to one respondent, the 12-step group "encourages the concept of giving back, of sharing experience, strength, and hope. And it's a rather small step to go from sharing that on an individual basis to sharing it on a public or group basis in community service."
Not all community service programs are created equal, however. According to a 2003 study by the Resource Center for Adolescent Pregnancy Prevention, the most successful service learning programs share the following characteristics:
Empowerment — Clients responsibility for planning activities, including preparation, implementation, and closure
Meaningful work with clear goals — The service learning project should provide youth with an opportunity to make a real contribution to the community.
Adult Buy-In — Service learning projects need caring adults (parents, teachers, community leaders, service recipients, etc.) to serve as role models and to offer praise, support and encouragement to young people.
Time for Reflection — A successful service learning project must include structured time for reflection on the experience, contributions made, and skills gained.
Frequent, regular service — The service should run at least 20 hours.
So if you or your daughter is struggling with an eating disorder — and dreading the approach of the holidays — consider helping yourself by being of service to others.
"When you help others, you appreciate what you have and realize how blessed you are," says one Mirasol volunteer. "There's no time to feel lonely, guilty, or afraid. Plus it helps us feel like we're part of the holidays."
For additional information on service learning and community service:
National Service-Learning Clearinghouse
National Service Resource Center
National Youth Leadership Council
Youth Service America
1-888-520-1700 or recovery@mirasol.net © 2009 Mirasol, Inc. All Rights Reserved.