November, 2009 Letter from the Founder | Mirasol's New IOP | Equine Therapy
Dear Friends,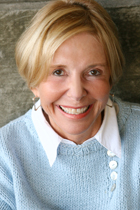 It seems like forever since I've written! I have witnessed the arrival of my third new granddaughter, MaileLeilani. She is simply beautiful, I'm proud to say — all 6½ pounds of her!
I have also been informed by my son and daughter-in-law that the words "fat" and "diet" have been banned from their house! I'm so glad that they're committed as a family to raising girls without eating or body image issues.
This month's newsletter is a particularly wonderful one! Maeve's description of the equine therapy process is so powerful. I can literally feel her emotions as she tells us about her experience. The adventure weekend which includes camping and equine therapy is an unforgettable experience for all of our patients. Therapists go camping, counseling assistants, and of course our fabulous, 5-Star chef, Robert. I hope you enjoy this story as much as I did.
Warmly,
Jeanne Rust, PhD
Mirasol's New Intensive Outpatient Program (IOP)
Mirasol's Eating Disorders IOP is a new outpatient program in Tucson, Arizona, for individuals who are struggling with anorexia, bulimia or compulsive eating. This intensive outpatient program is based on the latest research in effective, short-term treatment for eating disorders. Our integrative combines dialectical behavioral therapy to teach mindfulness, effectiveness, and emotional modulation, with experiential therapies proven effective in the treatment of chronic stress-related conditions. The program meets three times a week on Monday, Wednesday and Thursday evening from 6:00 to 9:00 pm. Each session is 12 weeks in length, and our open enrollment policy means we can accommodate new clients when they need support, regardless of time of year. For more information, visit Mirasol's web site or call our toll-free admissions line at 888.520.1700.