November 2010 | Letter from the Founder | Caving Grace | Blue Cross Blue Shield
Letter from the Founder
Dear Friends,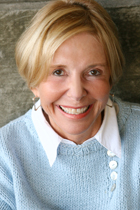 Last night was the All Souls Procession, a uniquely Tucson tradition that many of us consider the cultural event of the year. It began in 1990 with a ritualistic performance by local artist Susan Johnson, who was mourning the death of her father. Inspired by Mexico's Dia de los Muertos festival, Johnson determined to honor her father with creativity. Today, the All Souls Procession attracts more than 20,000 participants to the streets of downtown Tucson for a two-mile long procession that climaxes with the burning of a large urn filled with hopes, offerings and wishes for those we have lost.
In Mexico, November 2 — All Souls Day — is celebrated by graveside reunions that are more festive than somber. Family members bring picnic baskets and bottles of tequila to toast the departed. The celebrations last well into the night and may include Mariachi music and fireworks. When darkness falls, votive candles light the way for the departed.
We mourn what we have lost, we rejoice in the support of family and friends, and we celebrate life by lighting the way for others. What a perfect recipe for recovery!
This year on All Souls' Day, Mirasol clients found themselves deep in a cave in the mountains above Tucson. They had to squeeze through tight spots, overcome difficult challenges and learn to rely on each other to find their way back to the light. Congratulations to all the women who had the courage to confront the cave — and their eating disorders — by coming into treatment at Mirasol!
Warmly,
Jeanne Rust, PhD
Caving Grace
Finding Trust, Communication and Support Underground
Adventure therapy is an integral part of Mirasol's residential eating disorder treatment program, including hiking, camping, and also caving! On November 2, Mirasol clients, accompanied by therapists and support staff, explored a cave in the mountains near in Tucson.
This is not your grandmother's cave. There are no lights and no walking path or protective railings. There's nothing to illuminate your path but a small red flashlight — and the support of those around you.
Mirasol Clinical Director Diane Ryan thinks it's a great metaphor for treatment.
"This is a place where we really have to help one another," says Ryan. "There are a lot of places where it's tight, and there are drops you can't see, so you need someone to say, 'put your foot here, put your hand there'. It drives home that message about depending on one another in a really healthy way."
"There's always a moment when you're not sure you're going to make it out. So we really use all of the things that we learn in treatment about breathing, and trying to relax and clearing our minds, and focusing to get through those tight spots."
It was an unforgettable experience for one Mirasol client.
"We had to learn to depend on one another, and let go of our own selves and learn that we do have limits, but we can trust one another," she reports.
"The clients really had that spark to be there for one another and to communicate when things were tough and offer help and stay back and give others light in the hand whenever they needed it."