October 2011 | Stop Eating Your Heart Out | Healing Your Hungry Heart | Editor's Note | Teen Unit | Recipe
Note from the Editor and CEO, Jeanne Rust, PhD, LPC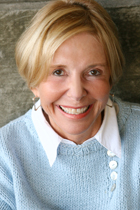 Dear Friends,
I'm hoping that you all are well. It's finally cooling off here in Tucson!
A friend mentioned to me the other day about what a miserable year she thinks 2011 has been. Nodding my head, I agreed with her and went on my way. Then I began to think about what 2011 has really been like for so many of us.
Jobs, the economy, weather events – all of these situations and more have caused a great number of people to be incredibly stressed. Are many of you feeling tightness around your neck and in your head? I know I do sometimes.
However, I know that even with all of the disasters, both financial and emotional, I have the choice every single day to choose how I'm going to feel that day. Maybe I can't choose for the entire day, but I can choose for an hour. I can practice finding peace, even if it is just a small bit. If I have had a set back, I can refocus and get back on track. I don't have to stay stuck!
If anyone is having trouble out there and wants to write me on Mirasol's Facebook page about this, I'd love it we started a discussion. What do we do when it seems as if our whole worlds are falling apart? How do we react in a crisis situation??
I'm excited about this month's newsletter. Two of my best friends have just had published books by Conari Press. I have asked them to write about their books, send me pictures of themselves, and pictures of their books.
I'm amazed at how two such different women working in exactly the same field are able to write two such very different books!
In Stop Eating Your Heart Out, Meryl Beck talks about her experiences with binge eating from a very personal point of view and gives suggestions on how to begin recovery.
In Healing Your Hungry Heart, Joanna Poppink talks about healing and eating disorders in middle-aged and older women.  She also has recovery suggestions that come from a very heartfelt place.  Look for your way to win a free copy of Healing Your Hungry Heart in Joanna's post.
Thank you, Meryl and Joanna, for your contributions!  It's been so much fun working with you both!  Notice that I was fortunate enough to write an endorsement for Joanna's book, and blessed to be able to write the forward for Meryl's book.
As always, let me know what you think!!
Warmly,
Jeanne Rust, PhD
Editor/CEO/Founder
Mirasol
Newsletter Recipe:
Calabasitas
4 Medium  Zucchini - Cut in to ¼ inch half moons
1C. Red or Sweet Yellow Onion -Small dice
3 Medium Garlic cloves - Minced
2 Medium Bay Leaves
1/8 Tsp. Dried Thyme
Pinch of dried Epazote
2-3 Roma Tomatoes – Medium dice
1C. White corn – Drained
3 Sprigs of Cilantro – Chiffonade
Semi soft Mexican Cheese such as Oaxaca – Medium cubes
Salt & fresh ground Pepper to taste
In medium sauce pot, heat olive/canola oil blend on medium.
Add onions, bay, thyme and epazote. Sautee until onions close to transparent and herbs are fragrant.
Add garlic and stir lightly for a few seconds then add tomatoes.
Mix in zucchini and salt, stir well and cover. When zucchini is stewed, add corn and stir gently.
Turn off heat and add cilantro, salt and fresh ground pepper to taste. Mix in cheese and cover until cheese is melted.
Makes 4-5 Servings