Mirasol's Eating Disorder Professionals

Jeanne Rust, PhD
CEO and Founder
Jeanne specializes in eating disorders and is an expert in the treatment of adult trauma. She holds a PhD in Clinical Psychology from Saybrook Graduate School, a Master's Degree in Counseling, and a Bachelor's degree from Northwestern University. Jeanne has received comprehensive training in Gestalt and other expressive therapies, as well as Traumatic Incident Reduction (TIR) and Emotional Freedom Techniques (EFT), and she is a certified Neuro-Linguistic Programming (NLP) practitioner. Jeanne was a therapist in private practice for many years before founding Mirasol. She has worked with the University of Arizona athletic department to meet the therapeutic needs of athletes with eating disorders, has taught courses at the university level, and provides training and education for health care professionals in her areas of expertise.

Sierra Ohrel, LPC
Clinical Director
Sierra is a native Tucsonan. She has spent her entire life in love with nature, animals, and the process of being human. She believes in walking with people on their journey. That includes laughter, tears, and everything in between. Sierra has a Bachelor's Degree in Fine Art and Graphic Design. She has a Master's Degree in Counseling Psychology and Equine Assisted Mental Health. She specializes in trauma treatment through the lens of EMDR and honoring one's story. Sierra is a JourneyDance Facilitator, practices Equine Facilitated Psychotherapy, is a P.A.T.H. Advanced Certified Therapeutic Riding Instructor, an Equine Specialist, and a practitioner of Yoga Nidra and Restorative Yoga. Sierra spends her free time enjoying the relationship with her horses, cooking, gardening, and spending quality time with family. She enjoys hosting retreats that support restoration and personal insight. She has spent her career helping people get back into their bodies through meditation, dance, expressive arts, and the horse-human interaction. Sierra believes whole-heartedly in what Mirasol offers. The principles and practices are very much how she lives her life.

Rebecca Hamilton, CNM
Medical Director
As an Advanced Practice Nurse and Certified Nurse-Midwife, Rebecca has over 30 years of experience in women's health care. She has served families during the most challenging times of their lives — as a midwife provider for a large high-risk perinatology practice, as director of a free-standing birth and women's health center, at a busy inner city midwifery hospital practice and as owner of her own women's health practice. She has cared for many young women with substance abuse and histories of trauma and eating disorders. Rebecca has abandoned 24 hour on-call schedules and years of lost sleep, but can't give up on her desire to empower women, inspire hope and accompany clients on their path to recovery.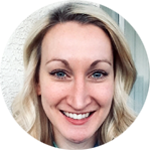 Amber Scott, MS, LAC, NCC
Primary Therapist
Amber is a Licensed Associate Counselor (LAC) and a Certified Clinical Trauma Professional (CCTP) with a Master's in Mental Health Counseling from Capella University. Her interests include empowering women and cultivating space to produce healing through resiliency. She is currently is a PhD candidate in Human Sexuality at the California Institute of Integral Studies, where she is working on a dissertation proposal related to sexuality and eating disorders. With a sex-positive stance that embraces sexuality and sexual expression, Amber works to expand our clients' care to address sexual health needs and concerns. Prior to Mirasol, she worked with children and adolescent trauma survivors, and completed an observational internship with a pelvic pain physical therapist. She was drawn to the eclectic nature of Mirasol and the opportunity to work alongside a holistic treatment team. Amber sometimes incorporates Animal-Assisted Therapy to model self-regulation and mindfulness, with a co-therapist rabbit named "Onan" and co-therapist dog named "Couture".

Samantha Willy-Gravley, LMSW, MPH, RYT
Primary Therapist
Samantha grew up in the Sonoran Desert and the Chiricahua Mountains. A passion for living abroad, learning languages, dance, yoga and the outdoors led her on a journey of exploring what it is that heals humankind. Samantha's background is in somatic therapy. In 2012, she finished her 200-hour yoga certification, and since 2016, has worked on her 800-hour certification in Healing Emphasis Yoga at Inner Vision Yoga. Through a workshop with Janina Fischer, she found Sensorimotor Psychotherapy and completed level one training in 2019. She has a Master's in Clinical Social Work and in Public Health from Ohio State University, and has a diverse background of clinical and academic experiences working with teens and adults. Samantha's lens is trauma-informed, strengths-based, and social justice oriented. She believes that our mind/body/spirit systems have an innate ability to heal ourselves.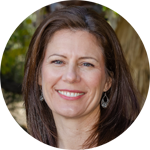 Ilene Yalen, MSRD
Dietitian
Ilene received her Bachelor's degree in Dietetics in 1994 and her Master's degree in Nutritional Sciences in 1997, both from the University of Arizona. She has worked as a dietitian in a variety of clinical settings and as a private consultant here in Tucson. Most recently, she worked with firefighters, assessing their needs individually and giving presentations to fire departments and at nutritional conferences. Throughout her 25 years of experience as a dietitian, she has encountered many clients with disordered eating patterns, sparking her recent interest in eating disorders. Ilene is excited to help spread truth, balance and peace in her clients' relationship with food. She is grateful to be working at Mirasol in a supportive atmosphere sharing a healthy, sound nutritional philosophy.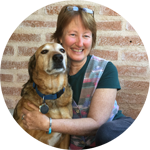 Alison Pearson, MA, RPP
Polarity and Cranialsacral Therapy
Alison Pearson has been the Polarity Therapist at Mirasol since January 2004. She received a Master's Degree in Sociology, specializing in Gender and Social Psychology, from the University of Arizona in 1991. She completed a Polarity Therapy Certification Program in 1997, and in 2007, she completed a Cranialsacral Therapy Certification program. More recently, she trained to be a TRE Facilitator. Alison has a strong commitment to energy medicine that predates her formal training. She spent considerable time studying breath-work techniques and loving touch to release trauma from the body. Alison is an avid student of the work of Byron Katie and uses this method of belief investigation as part of her work. Polarity Therapy defines health as a "free-flow of energy in the body", and Polarity Therapy seeks to release whatever is blocking energy flow. Blocks can be physical, emotional, or mental (beliefs). When the mind and body are integrated as a team we can be in the flow of life. Having an integrated mind/body system is essential to recovery. Polarity Therapy begins on the bodywork table, however, its principles can provide a foundation for a healthy, happy lifestyle.
Kim Kellow
Spiritual Integration Practitioner
Spirituality is a key component in recovery. We know that women who have some sort of spiritual practice have a much higher rate of recovery. Whether we recognize it or not, we all have a measure of spirituality, as defined by the way we connect to ourselves, to others, and to the world around us. We work on universal themes that are part of all belief systems: loving kindness, compassion, and forgiveness. It's not about changing or giving up your belief system, it's about finding ways to help it meet your needs.

Stephanie Lindsay, BA
Kitchen Supervisor
Stephanie is much loved by both clients and staff, not only for her lovely Irish brogue, but for the small touches like the little baggies full of "drinkies" (assorted teas, decaf coffee, stevia and creamers) decorated with hearts and flowers that we find tucked in packs when we go backpacking. Inspired by her father who was an excellent cook, Stephanie studied culinary arts at Dublin Institute of Technology where she minored in nutrition. She became a chef at Mirasol in 2014, shortly after relocating from Ireland to join her fiancé. She says, "Everything about the job appealed to me, especially the opportunity to help people repair their relationships with food. I just think food can bring so much to your life. If you can appreciate food, you can be brought little bits of joy six times a day!"
Duncan Eidse
Maintenance Manager
After studying facility management on the East Coast, Duncan arrived in sunny Arizona in October, 2005, and has been with us ever since. Born in Manitoba, Canada, Duncan lived outside of Philadelphia for 20 years, honing his handyman skills while aquiring his Bachelor of Arts degree from Temple University. He is an avid golfer and sports fan, and he really enjoys working with the clients and staff at Mirasol to make it a safe and enjoyable place to be.