Testimonials from Former Mirasol Clients
Maria's Worlds
When Mirasol clients reach the end of their treatment program, we all share in a closing ceremony to celebrate the transition. The ceremonies can take many different forms, including dance or artwork that symbolizes what the client is ending and beginning when he or she goes home. Maria loves basketball, so for her closing ceremony, she created some very special works of art, including two basketballs that represent her worlds before and after treatment.
The old universe is deflated and covered with words that describe her state of mind when she came to Mirasol: complicated, anxious, isolated, numb, scared, lost, confused, hopeless, overwhelmed.
Maria chose these words to describe her new world: peace, connection, happy, blessings, coping skills, self-love, self-care, mindful, motivation, open, understanding, grateful, balanced.
Maria says creating these works for her closing ceremony made her realizes how much she has grown.
"When I first came here, I was like 'I only need to be here a week, I'm fine, I don't have any problems.' And then I opened up, and realized that I had some things to work on. And now that I've gone through it, I realize that being here actually did change me into a better person. And I realize that I wasn't fine, and that I needed that hope to be okay. I've learned a lot about myself, and that helps me feel okay, and I know that feeling okay feels better than how I felt."
In 2012, a series of traumatic losses turned Jenn Ryan-Jauregui's life upside down. Suffering from anorexia and PTSD, she sought treatment at an eating disorder program in Oregon.
"My husband and I moved to Tucson in April of 2014 to be closer to family, but by the time I got here I was already back into my eating disorder."
Two weeks later she was admitted to Mirasol's adult residential program, and began to work not just on her relationship with food, but with the underlying trauma. When her insurance company prematurely stepped her down to a lower level of treatment, Mirasol continued to provide regular EMDR and TRE.
"I've been at recovered weight now for 18 months," says Jenn. "I think what made the difference this time is that I finally learned how to put my recovery first. I have learned to recognize what I need for myself and to honor that ... and to do whatever I need to do to stay healthy."
Full Story
Ayla's Finale
It's an all-too-familiar story: a brilliant young dancer upstaged by an eating disorder. Ayla's illness forced her to drop out of a prestigious ballet school, she fell into a depression, and her therapist recommended residential treatment.
"I locked myself in my room and I was crying hysterically for like four hours," Ayla recalls. She credits Jodi Tudisco, Clinical Director of Mirasol Adolescent Program, with saving her life.
My mom knocked on the door and she handed me the phone and it was Jodi, and Jodi pretty much talked me down from killing myself."
The Full Story
Tori's Story
On her last day in treatment at Mirasol's teen residence, Tori reflects on her experience at Mirasol, including a brief stay at another eating disorder treatment facility.
"Right when I came in, I was cared for and I was loved, and people really wanted to help me."
"No other treatment center is like this. It's so individualized."
"The therapists here and all of the staff members are very, very caring. You can tell that they really love you and they really want the best for you. I remember going into my sessions and I just felt like I could be myself, like I could say whatever I wanted, whatever I was feeling, and I was not judged at all."
"I feel like I'm a very strong person because I'm in recovery now, and I wouldn't have been in recovery if it wasn't for coming here and learning all these amazing things."
"I'm looking forward to seeing my family and showing them how amazing I'm doing. I want to prove to them that I'm a much stronger person now and I'm going to kick butt in my recovery."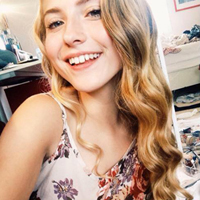 "Kick Your Eating Disorder's Butt!"
By MA
When my parents told me that I had to go into a residential treatment center, I was not happy. But I'm so glad I did. And this is why.
I am 15 years old and have suffered with anorexia nervosa for the past year. Let me tell you, though, that year was HELL. I can't pinpoint the time it exactly started, but I can say the time where I started my diet. That was in March of 2014. I started wanting to eat healthier. At first, it was like that. I incorporated more vegetables and I would try new food. I had days where I would get dessert and eat a little more. I did that for about two months. Then, I slowly started going downhill. The thing is, I didn't even know I was going downhill until I realized I was so deep down into "the hole" (which is what I would call it). I was NEVER fat to begin with. It's just that perfectionism part of me always wanted me to be this really unrealistic human being. I kept going on this "diet" and slowly started to cut out chocolate, cereal, desserts, pasta, pizza — all of the foods that I once loved.
In August of 2014, I moved to Arizona and that's when it got REALLY bad. I could see every bone there was in my body and quite frankly, it disgusted me. I wanted to get better so badly. I just didn't even know where to begin. My eating disorder was telling me to stay eating the way I was so that I wouldn't gain weight, but all I would do was lose weight. I didn't want to lose weight, I just wanted to maintain my weight. Overall I had lost a total of 32 lbs. and for my height, and how active I was, that was not acceptable. I was on a cross country team until my doctor pulled me out of the team. I was very upset.
In September, my parents decided to get me a pediatrician who specializes in eating disorders, a dietitian, and a therapist. I would see them all once a week. Whenever I would see them, I would get really motivated and excited to get through this, but then when I would leave, I would just go back into that mindset.
Months passed and I got admitted into Mirasol at my lowest weight. It was very challenging and the most definitely the most difficult time of my life. But it was so worth taking some time for myself to help me get back on track and straighten up my life. I loved how we all had our own individual meal plans, and the food was AMAZING. We would get a variety of foods and even though I am an extremely picky eater, I managed to get through it ;)
If you're reading this, and you're thinking about going to a treatment center, or your parents are already making you go to one, PLEASE COME. You will be the happiest you will ever be, trust me. I am in recovery and even though it's been tough, it's been so worth it. And I would recommend this place to ANYONE for help. You are worth it. Kick your eating disorder's butt and choose recovery... because it's amazing... :-)
Rediscovering Joy and Passion
Mirasol alumna Devon Coombs describes how her stay at Mirasol literally brought her back to life and helped her rediscover joy and passion.
Just wanted to again express my sincere gratitude for the opportunity to be in residential treatment.

It was an integral part of my road to healing — work I could never done elsewhere. You have all been so amazing!

My favorite one is of the ...... charge.

Sincerely, C
It's Valentine's Day, and this is my valentine to Mirasol:

I am in in love with life, and the beautiful person I have become. How many women do you know who can honestly say this?

When I left for Mirasol, getting out of bed was a chore. I found it hard to smile and quite frankly to live. Today, I can honestly say it's hard to go to sleep because I so look forward to waking up tomorrow. I love my life. It's a simple concept, but at one point in time it was something I thought I'd never obtain. I am no longer an under-eater, an over-eater, an exerciseaholic. I'm back to my life. I go to class now and look forward to helping people. This could have never been possible without first helping myself. Mirasol helped me help myself, save myself. Who would have thought that I could be this happy? I love the skin I'm in. I love the person I have grown to become. I am my own valentine.

— Sincerely, AC
Mirasol not only saved my life, it changed my entire outlook on life. I was introduced to a whole new way of living — a holistic, organic, authentic way that was instrumental in my healing process and continues to be a huge part of my daily life post-Mirasol. My view of what is possible in the world and what I am capable of was expanded dramatically during my 60 day stay at Mirasol. My creativity ... was finally allowed to reemerge and I loved the formal introduction to my inner child who I have continued to develop a beautiful relationship with ever since.

The staff at Mirasol had a profound positive impact on my recovery, and never in my life had I been exposed to so many healers in one place and in such a nurturing environment.

The guidance, wisdom, education and tools I received at Mirasol have allowed me to break past barriers which I was formerly hiding behind. During my stay, I began to develop the most important relationship in my life — the relationship I have with myself and my body and that has been the most positive life-changing experience I have ever had. Thanks to what I learned through Mirasol, I am able to love, respect and honor myself and the wisdom of my beautiful body. — Forever Grateful, DC
My overall experience at Mirasol was irreplaceable. Regardless of what happens in the future, I will permanently altered because of what I have learned at Mirasol and especially after my exposure to other programs. I would HIGHLY recommend Mirasol to anyone who is considering residential treatment. Thank you to the staff - I love you all. — CM
I feel fortunate to have had the opportunity to learn tools to cope with life without having to revert back to eating disorder behavior. The dietitian is exceptional. I am deeply grateful to all of the staff who made my stay warm and valuable. — VN
My stay here exceeded all my expectations, which were very high to begin with! I have learned and loved so much. — KJ
This program helped to save my life. I love the warm approach at Mirasol. Thank you from the bottom of my heart. — KY
The meals are outstandingly delicious and having a cookbook gives me hope for future cooking! — RH
Mirasol is a wonderful and innovative place. It is unique in that it gives clients a chance to make up their own minds about their willingness to recover. — MM
I am so grateful for everyone at Mirasol for the amazing experience I've had!!! Thank you for really making a difference in my LIFE! — BS
LC: I really appreciate how much the staff listens and takes into consideration what people have to say. I also felt like I was really allowed to be myself and be trusted. I feel more confident now leaving because of that. I never thought I would be able to do what I have done and I feel so good about it. I feel like I am really getting a start to having my life back and I love Mirasol for that! — LC
I was at Mirasol in the summer of 2001. It's hard to believe it has been over a decade since I was in treatment. I don't have the right words at the moment to express how thankful I am for you and for Mirasol, and how instrumental to my health and sanity it all was. — PM
Subscribe to Our Newsletter
"Mirasol is light years ahead of any other program in the country."