Mirasol Treatment Outcomes
Mirasol is proud of its reputation as a healthcare innovator and trend-setter, continually exploring and testing new options for successful treatment of eating disorders and associated conditions. Despite its small size, Mirasol's research department conducts rigorous psychological testing at admission, during treatment and after discharge. There are three compelling reasons:
To evaluate clients' emotional, physical and psychological well-being during treatment to protect their safety and provide feedback to both staff and clients on their progress
To evaluate and continually improve our processes to achieve the best possible outcomes for our clients
To contribute to the body of research on the most successful treatment options for eating disorders and co-occurring conditions.
Standardized Psychological Testing
Mirasol uses internationally-recognized standardized psychological tests to measure health outcomes. Mirasol administers all three tests to clients at admission and again at discharge or transfer from residential treatment to partial hospitalization (PHP). The results below are based on tests administed to clients who admitted between January 1, 2016, and December 31, 2017.
Beck Depression Inventory (BDI)
The Beck Depression Inventory (BDI) is a commonly used instrument for quantifying psychological and physical symptoms of depression.
The BDI test includes a 21-item self-report using a four-point scale ranging which ranges from 0 (symptom not present) to 3 (symptom very intense. A score of 0-13 is considered minimal, 14-19 is mild, 20-28 is moderate, and 29-63 is severe.
BDI-2 scores indicate that clients experience a very significant 51% reduction in symptoms of depression after treatment at Mirasol, with the average client admitting with depression levels in the severe range, and discharging with mild to minimal symptoms.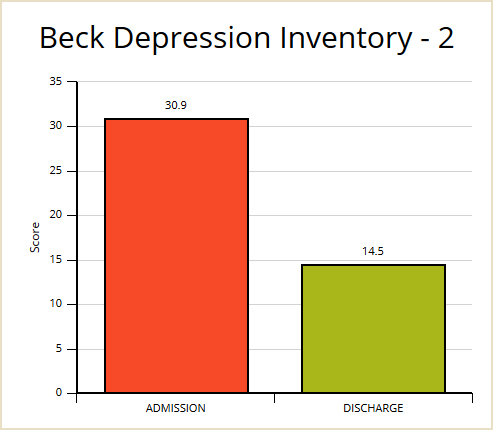 Beck Anxiety Inventory (BAI)
The Beck Anxiety Inventory (BAI) is a 21-question multiple-choice self-report inventory that is used to measure the severity of anxiety in children and adults. It queries symptoms of anxiety the subject has experienced during the past week including numbness and tingling, sweating not due to heat, and fear of the worst happening. A score of 0-9 indicates normal to minimal anxiety, 10-18 indicates mild to moderate anxiety, 19-29 is moderate to severe, and 30-63 indicates severe anciety.
BAI-2 scores indicate that Mirasol clients experience a significant 13.4% reduction in symptoms of anxiety after treatment. The average client admits with anxiety in the moderate to severe range, and discharges with mild to moderate anxiety.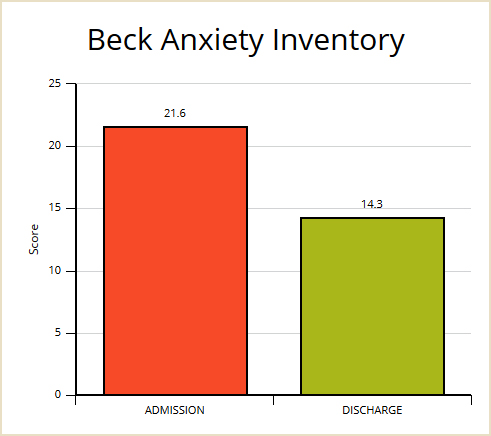 EDI Disorder Inventory-3
The Eating Disorder Inventory is an independent self-report form that is used to evaluate a variety of emotional states associated with eating disorders. The Eating Disorder Risk Composite (EDRC) is the average of the scores for bulimia, drive for thinness and body dissatisfaction, and the Global Psychological Maladjustment Composite (GPMC) is the average of the scores for including low self-esteem, personal alienation, interpersonal insecurity, interpersonal alienation, interoceptive deficiency, emotional dysregulation, perfectionism, asceticism and maturity fears.
Both EDRC and GPMC T-scores showed significant improvements after treatment at Mirasol. The average EDRC T-score at admission was 48.0 compared to an average score of 37.7 at discharge. Meanwhile, GPMC-T scores declined from an average of 49.9 at admission to 40.6 at discharge.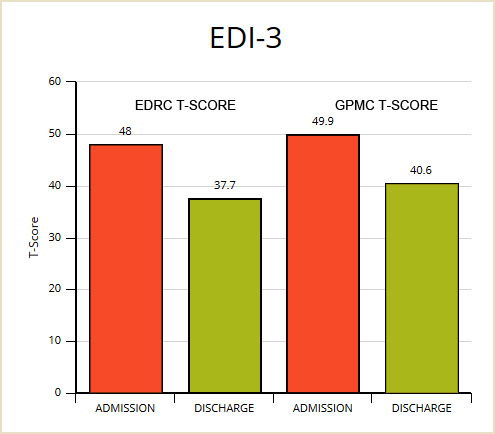 Alumni Surveys
While the vast majority of Mirasol clients demonstrated significant reductions in depression, anxiety and eating symptoms after treatment, our research department also surveys clients six months, one year and two years after discharge to assess long-term recovery. Sample size is not large since, understandably, most clients who have recovered from an eating disorder prefer to put their illness behind them and get on with their lives. Mirasol alumni survey results 2015-present are as follows:
Six months to one year after treatment, 84% of respondents said their eating disorders were "much better", 5% were "somewhat better" and 11% had no symptoms at all. 79% of survey respondents experienced some lapses after discharge. For 63% of that group, the episodes lasted less than one day, for 19% it was less than one week and for 18% the incidents lasted two weeks to one month. Only 16% of survey respondents were experiencing relapse at the time of the survey.
We also ask our clients about their biggest challenges in recovery. We expected them to report ongoing issues with body images and family and personal relationships. Instead, the biggest challenges they reported were loneliness, body image and isolation, in that order. Mirasol has since conducted additional research on the health risks of loneliness and is working on new treatment protocols that will help clients learn to connect with others and build the strong supportive communities they will need to succeed in recovery.
More on Loneliness and Recovery
Ongoing Research
Mirasol is also participating in a research project on the relationship between eating disorders and small intestinal bacterial overgrowth (SIBO), a condition that can cause a variety of symptoms including indigestion, diarrhea, bloating and abdominal pain. Nearly all our clients experience profound gastrointestinal disturbances, and we tend to assume that these symptoms are a natural part of the body's recovery from an eating disorder. But what if an imbalance in the gut biome contributed to the development of the eating disorder? Results are preliminary, and treatment is controversial, but the project has generated international interest, and a flood of requests to present on this exciting new area of research into the physiological components of eating disorders.
More on SIBO and Eating Disorders
"Mirasol is light years ahead of any other program in the country."